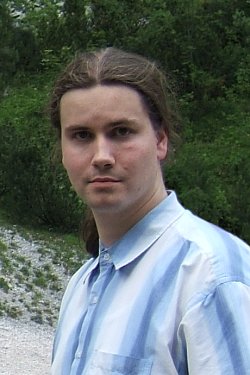 I no longer work here! The contact data below is outdated.
Arnd Vitzthum
Mail
arnd.vitzthum ät ifi.lmu.de
Phone
+49-89/2180-4663
Fax
+49-89/2180-4652
Address
Arnd Vitzthum
Universität München, LFE Medieninformatik
Amalienstr. 17
80333 München
Germany
Room
501 (5th floor)
---
About Me
I have studied Computer Science at the Dresden University of Technology. Since march 2003 I'm a PhD student and research assistant at the University of Munich (LMU), Media Informatics Group. My primary research interests are directed towards the development of 3D user interfaces and their integration into applications.
Research Project
A brief overview on my research project is available. This includes open project and diploma topics.
Publications
2007



Download

Andreas Pleuß, Arnd Vitzthum, Heinrich Hussmann
Integrating Heterogeneous Tools into Model-Centric Development of Interactive Applications
ACM/IEEE 10th International Conference on Model Driven Engineering Languages and Systems (MODELS 2007), ISBN 978-3-540-75208-0, pp. 241 - 255, Springer LNCS 4735, 2007
Arnd Vitzthum
Model-Driven and Framework-Supported Augmented Reality Development
In: Proceedings of the Workshop "Specification of Mixed Reality User Interfaces: Approaches, Languages, Standardization" at the IEEE Virtual Reality 2007 Conference, 5 pages, May 2007
2006
Arnd Vitzthum, Heinrich Hussmann
Modeling Augmented Reality Applications with SSIML/AR
Journal of Multimedia (JMM), 10 pages, vol. 1, issue 3, ISSN 1796-2048, 2006
Link to Journal
Arnd Vitzthum
SSIML/Components: A Visual Language for the Abstract Specification of 3D Components
11th International Conference on 3D Web Technology (Web3D 2006), ISBN 1-59593-336-0, 9 pages, ACM Press, 2006
Link to Paper
Arnd Vitzthum
SSIML/AR: A Visual Language for the Abstract Specification of Augmented Reality User Interfaces
The 1st IEEE Symposium on 3D User Interfaces, 8 pages, IEEE Computer Society Press, 2006, ISBN 1-4244-0225-5



Download

Arnd Vitzthum
Towards a Structured Design of Augmented Reality Applications
Contribution to the Workshop "Specification of Mixed Reality User Interfaces: Approaches, Languages, Standardization" at the IEEE Virtual Reality 2006 Conference, 4 pages, web publication, 2006
2005
Arnd Vitzthum
SSIML/Behaviour: Designing Behaviour and Animation of Graphical Objects in Virtual Reality and Multimedia Applications
IEEE International Symposium on Multimedia (ISM2005), 9 pages, IEEE Computer Society Press, ISBN 0-7695-2489-3, 2005
Arnd Vitzthum, Andreas Pleuß
SSIML: Designing Structure and Application Integration of 3D Scenes
10th International Conference on 3D Web Technology (Web3D 2005), ISBN 1-59593-012-4, pp. 9 - 17, ACM Press, March 2005
2002
Arnd Vitzthum
Entwicklung eines Autorenwerkzeuges zur einfachen Erstellung komponentenbasierter dreidimensionaler Applikationen
Diploma Thesis, Dresden University of Technology, 2002
Activities
Session chair at the IEEE International Symposium on Multimedia 2005 (ISM2005)
Teaching Assistance
Medientechnik
Digitale Medien
Hauptseminar Augmented and Virtual Reality
Praktikum Augmented Reality
Praktikum Mediengestaltung
Multimediale Lehr- und Lernsysteme