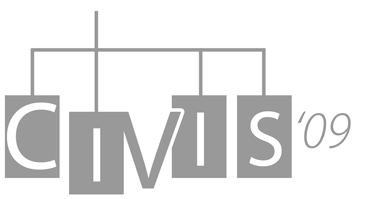 Submit a paper
The goal of the workshop is to bring people from varying different backgrounds together to discuss issues in multi-user information visualization and visual analytics systems for co-located work.
Prospective participants are invited to submit position papers of up to four pages in length, which outline one or more potential topics/solutions to discuss during the workshop.
Papers should be formatted according to the ACM IUI format (see IUI website).

Submissions should be sent to:
Dominikus Baur - dominikus.baur@ifi.lmu.de

no later than November 14, 2008. December 12 2008 (new extended deadline).
Submissions should include the name and address of the primary contact and the paper as a PDF file.
All workshop participants will have to register for the main conference (IUI '09) in order to attend CIVIS09.