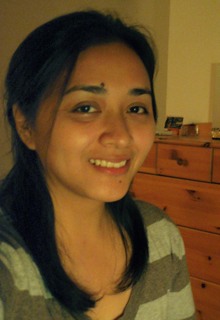 Florence Balagtas-Fernandez
I no longer work here! The contact data below is outdated.
---
About me
I am currently a PhD student working under the supervision of
Prof. Heinrich Hußmann
and my scholarship is financed by the
DAAD (Deutscher Akademischer Austausch Dienst)
. I did my BS and MS in Computer Science in the Department of Computer Science at the University of the Philippines, in which I also later on worked as an Instructor. I also worked briefly as a software engineer at Epson Software Development Laboratories, Japan and then later on at Canon Information Technology, Philippines.
---
Research Interests
I am primarily interested in finding ways to simplify the development of software applications particularly for mobile platforms. The research areas that I'm trying to explore are: human-computer interaction, mobile computing and model-driven development.
---
Publications
2010



Download

Florence Balagtas-Fernandez, Max Tafelmayer, Heinrich Hussmann
Mobia Modeler: Easing the Creation Process of Mobile Applications for Non-Technical Users
In Proceedings of the 15th International Conference on Intelligent User Interfaces (IUI 2010). Hong Kong China, Feb. 2010, ISBN 978-1-60558-515-4, pp. 269-272.
2009



Download

Florence Balagtas-Fernandez, Heinrich Hussmann
A Methodology and Framework to Simplify Usability Analysis of Mobile Applications
In Proceedings of the 24th IEEE/ACM International Conference on Automated Software Engineering (ASE 2009). Auckland New Zealand, November 2009 , ISBN 1527-1366/09, pp. 520-524.
Download EvaHelper



Download

Florence Balagtas-Fernandez, Jennifer Forrai, Heinrich Hussmann
Evaluation of User Interface Design and Input Methods for Applications on Mobile Touch Screen Devices
In Proceedings of the 12th IFIP TC13 International Conference on Human-Computer Interaction (INTERACT 2009). Uppsala, Sweden, August 2009, ISBN 978-3-642-03654-5, pp. 243-246
(bib)



Download

Florence Balagtas-Fernandez, Heinrich Hussmann
Evaluation of User-Interfaces for Mobile Application Development Environments
In Proceedings of the 13th HCI International 2009 (HCII 2009). Town and Country Resort and Convention Center, San Diego, CA, USA, July 19-24 2009, ISBN 978-3-642-02573-0, pp. 204-213 (bib)



Download

Florence Balagtas-Fernandez, Heinrich Hussmann
Applying Domain-Specific Modeling to Mobile Health Monitoring Applications
In Proceedings of the 6th International Conference on Information Technology : New Generations (ITNG 2009). Las Vegas, Nevada, USA, April 27-29, 2009, ISBN 978-0-7695-3596-8, pp. 1682-1683.
IEEE Link (bib)



Download

Florence Balagtas-Fernandez, Heinrich Hussmann
Modeling Information From Wearable Sensors
In Proceedings of the 4th International Workshop on Model Driven Development of Advanced User Interfaces (MDDAUI 2009). Sanibel Island, Florida, USA, February 8, 2009. CEUR Proceedings, Vol. 439, ISSN 1613-0073.
2008



Download

Mark Bilandzic, Michael Banholzer, Deyan Peev, Vesko Georgiev, Florence Balagtas-Fernandez, Alexander De Luca
Laermometer - a Mobile Noise Mapping Application
In NordiCHI 2008: Proceedings of the 5th Nordic Conference on Human-Computer Interaction. Lund, Sweden, October 20 - 22, 2008. ACM, New York, NY, 415-418. DOI= http://doi.acm.org/10.1145/1463160.1463208, ISBN 978-1-59593-704-9. (bib)



Download

Florence Balagtas-Fernandez, Heinrich Hussmann
Model Driven Development of Mobile Applications
In Proceedings of the 23rd IEEE/ACM International Conference on Automated Software Engineering (ASE 2008)(Doctoral Symposium). L'Aquila Italy, September 2008, ISBN 978-1-4244-2187-9, pp. 509-512. (bib)
2006



Download

Florence Balagtas-Fernandez, Cedric Angelo M. Festin
Connecting Pervasive Frameworks Through Mediation
In Proceedings of the 13th International Conference on High Performance Computing (HiPC 2006). Bangalore, India, December 18-21 2006, Springer LNCS 4297, ISBN 978-3-540-68039-0, pp. 313-325
Springer link (bib)
Florence Balagtas-Fernandez
Java Education Development Initiative (JEDI): Introduction to Programming I
Download Student Manual
Java Education Development Initiative Website
---
Teaching Assistance
---