Information for Incoming ERASMUS Students
Welcome to the Media Informatics Group
Thank you for being interested in studying at Munich Media Informatics Group! We would like to give you a short impression of the Media Informatics Group and some practical information for organizing and enjoying your stay.
Requirements for Studying Media Informatics
You want to study Media Informatics at our university? Good choice :-) There are some requirements that you should meet. First of all, you need to be able to work in a practical and application-oriented way. Additionally, a good understanding of theoretical basics is necessary. An interest in art, music and design can be very helpful.
Understanding and speaking English and German is essential for most of our courses. Although most of the material provided during courses will be in English, many lectures will be read in German.
First Steps
Once your own university has acknowledged that you are going to participate in its ERASMUS programme, you should contact the ERASMUS coordinators of the University of Munich (LMU):
Jean Schleiss and Andrea Blei (ERASMUS coordinators)
ERASMUS-Koordination / International Office
Ludwig-Maximilians-Universität München
Geschwister-Scholl-Platz 1
80539 München, Germany
Phone +49 89 2180 3807, Fax +49 89 2180 3136, E-Mail

The International Office will send you all the information you need for your application to the LMU. You will also receive information packages (about the city and university) as well as accommodation reservation forms for a number of student accommodation facilities here in Munich.

Sarah Aragon Bartsch is the ERASMUS coordinator for Media Informatics. She will be happy to help you with questions specific to Media Informatics, for example questions about our lectures, about possibilities for Software Engineering projects, etc. She cannot process ERASMUS applications, this is only done by the International Office.
Application at LMU
Please make sure to return your application (to Jean Schleiss, address mentioned above) as soon as possible in order to meet the following deadlines:
For the winter semester: May 15
For the summer semester: November 15
Apart from the application, do not forget to send the following documents:
Your admission to the ERASMUS programme
A passport-sized photo of yourself
The LMU provides more information about Semester Dates & Enrollment for International Students.
University Matriculation
Once your application at the LMU was successful, matriculation will be your next important step. The matriculation dates can be found in your Letter of Admission. Usually, the registration for the Winter Semester takes place in October, for the Summer Semester in March/April. If, for any reason, it should be necessary for you to matriculate at an earlier date, please contact the International Students Office to make an appointment. Do not forget to take all the required documents with you! They will be listed in your Letter of Admission. Note that no other person but you will be authorized to complete the matriculation, so please appear in person.
Unless instructed otherwise, you should go to:
International Office
Rooms G 020 and G 024
Ludwigstr. 27 (ground floor)
The LMU provides more information on matriculation for international students.
Accommodation
To be honest, housing in Munich is hard to find. It is also pretty expensive compared to other German cities. However, there are several ways for international students to find a room for a reasonable price.
The Studentenwerk (student services) offers a limited number of rooms, some of them are guaranteed to international students. You will receive an Antrag auf Zimmerreservierung (request for room reservation) from the International Office along with their letter of admission. Please make sure to send it back by July 15 for a room in winter semester, or January 15 for a room in summer semester. If you receive an assignment, the Studentenwerk will send you information about your room, a rental agreement and instructions.
If your request for room reservation was not successful, or if you prefer private housing, the LMU provides helpful information on housing in Munich for you.
The Academic Year at LMU
The academic year is divided into 2 semesters:
The winter semester (WS): October 1 to March 31
The summer semester (SS): April 1 to September 30
Classes are held during the lecture period, or Vorlesungszeit, and term papers are usually written afterwards in the semester breaks. There is no set exam period. The lecture periods are as follows:
Summer semester 2022: 25.04.2020 to 29.07.2020
Winter semester 2022/2023: 17.10.2019 to 10.02.2020
Summer semester 2023: 17.04.2020 to 21.07.2020
Winter semester 2023/2024: 16.10.2020 to 09.02.2021
There's an
academic calender
with the lecture periods.
Orientation Phase
For newly enrolled students, useful information is provided on the pages of the student representatives (Gruppe Aktiver Fachschafter). Among other things, an orientation phase takes place a few days before the start of the semester. During this event, new students learn to find their way around the university. It is a good opportunity to get to know the buildings and other students. Furthermore, older students give numerous tips and answer questions.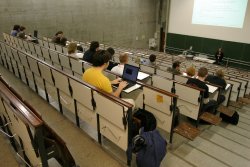 Lectures at the Media Informatics Group
A section containing information about the current lectures by the Media Informatics Group is available. Selecting one of the listed lectures will take you to teaching material, important dates and news. Be sure to also have a look at the lectures offered by other computer science units. For further questions, please contact our ERASMUS coordinators.
Lectures
Lectures (Vorlesungen, often accompanied by exercises sessions or Übungen) are the most common type of teaching. The aim of a lecture is mainly to give the students a theoretical knowledge of the subject. Registration to attend is not required most of the time, the number of participants is not limited. Credit points will be obtained in written examinations (Klausur). The number of credits depends on the number of academic hours (academic hour = 45 min.) per week (Semesterwochenstunden, SWS) of which the lecture consists. Normally a lecture consists of two to four SWS.
Tutorials
Lectures can be supported by tutorials (Tutorium, plural Tutorien). Tutorials will help the student to deepen the topics taught in a lecture under supervision. There are no assessments.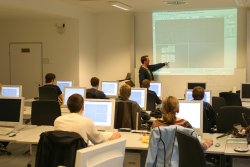 Seminars
Seminars (Proseminare or Seminare) will train the ability to apply theoretical knowledge to problem solving. Normally, registration to attend a seminar is required, the number of participants is limited. Deadlines for application are indicated in course descriptions. Assessment is based on different kinds of assessments, like essays, class presentations and written exams.
Practical Courses
A practical course (Praktikum) is a course, often in a specialized field of study, that is designed to offer students a supervised practical application of a previously studied theory. It consists of two parts, general meetings and practical training. During the meetings, the knowledge necessary to solve the assignements is presented. During the practical training, groups of three to five students will work on complex problems.
The LMU Grading System
The German scale of grades is from 1 to 5:
1 = very good
2 = good
3 = satisfactory
4 = sufficient
5 = unsatisfactory
If a course is graded with 4 or above then you have passed and will receive credits for the course.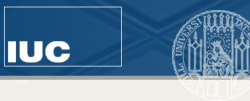 Administrative systems
Uni2Work
Uni2Work is a platform to facilitate e.g. handing in solutions for exercise sheets or signing up for exams. Whether a specific course uses this system can be looked up on the course website. A CIP-identifyer is needed to use Uni2Work.
Commented list of courses (LSF)
The LSF-Portal (Lehre-Studium-Forschung en.: teaching-studies-research) provides a commented list of courses. Especially signing up for courses of applied subjects from different departments may be necessary via this portal. Usually, this is announced. The information on the specific course pages of the faculties have priority.
CIP-identifyer
In order to use the computers in the CIP-Pools (e.g. Amalienstraße 17, Theresienstraße 39) or sign in to Uni2Work, students need a CIP-identifyer. These are distributed by the computer operation group (RBG). It is highly recommended to get a CIP-identifyer as soon as possible, as it is needed for many organizational purposes like signing up for exams.
Internet access - LRZ identifyer for students of the LMU
Information on how to get internet access to the Munich science-network of the Leibniz-Rechenzentrums (LRZ) can be found here.
CIP-Pool Amalienstraße 17
The CIP-Pool in the Amalienstraße can be used by media informatics and biology informatics students. In order to register, download this form, fill it in and hand it and a coloured passport photograph in (Amalienstr. 17, room A 405 (Franziska Schneider) or room 301 (Frank Steiner)).
German Language Courses
The International University Club (IUC) organises pre-term courses as well as courses during the winter semester. Please consult the Students' Guide or the IUC website for more details. The fee for both the beginners' and the advanced course is 100€.
Other links to German language courses:
The LMU website provides more information on German courses.
Post-Arrival Orientation Course (Einführungskurs)
For newly enrolled students who start with the bachelor course in the winter semester, useful information is provided on the pages of the student representatives (Gruppe Aktiver Fachschafter). Among other things, an orientation phase takes place a few days before the start of the semester. During this phase, new students learn to find their way around the university.
Alternatively, the International University Club (IUC) offers a post-arrival orientation course in the first two weeks of October. Please consult the Students' Guide or the IUC website for more information. The fee for this course is 110€.
Re-Registration
If you plan to stay at LMU Munich for more than one semester, you need to renew your matriculation each semester before the previous semester ends. Just pay your student services fee (Studentenwerkbeitrag), and you are re-registered. Your enrolment papers provide information on deadlines and procedures along with a bank transfer form to pay the fee.
Please look for detailed information on re-registration on the LMU website.
Withdrawal (Exmatriculation)
You will be automatically exmatriculated from LMU at the end of your study period. If you study at LMU for the winter semester only, your student status will officially end on March 31. Students, who leave at the end of the summer semester, will have student status until September 30.
The LMU website provides more information on exmatricaulation & checklist before departure.