Study Group Digital Photography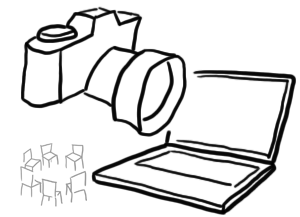 Lecturer:
Prof. Hussmann
Person in Charge:
Axel Hösl
Hours per week:
2
ECTS credits:
none
Module:
not assigned to a module
News
Hinweis:

Der Termin am 28.11.14 fällt aus

Hinweis:

Der Termin findet jetzt von 15-17 Uhr statt

Hinweis:

Der Termin am 24.10.14 fällt wegen Überschneidung mit der Absolventenfeier aus

Hinweis:

Der AKF trifft sich das erste mal am 17.10.14
Dates and Locations
Dates: Friday 3-5 p.m.
Location: Amalienstr. 17, A 105
Contents
Der Arbeitskreis Digitalfotografie trifft sich einmal wöchentlich und befasst sich mit verschiedenen Aspekten rund um die digitale Fotografie. Dabei bereiten die Teilnehmer reihum jeweils ein bestimmtes Thema vor, und präsentieren dies dem Arbeitskreis in einem kurzen Vortrag mit anschließender Diskussion oder praktischer Anwendung. Themen sollen einerseits die gestaltende Fotografie sein, andererseits aber auch Techniken im Zusammenhang mit digitalen Bildern und ihrer Verarbeitung. Für diese Lehrveranstaltung gibt es keinen Schein / keine ECTS-Punkte.
The lecture course is suitable for:
Registration
via UniWorX
Termine und Folien
Datum
Thema
Folien
Links
31.10.2014
Organisation
Folien
07.11.2014
Einführung in die Fotografie - 1
Folien
Podcast, Slides
(aus Medientechnik)
14.11.2014
Einführung in die Fotografie - 2
Folien
21.11.2014
Felix Koschmidder - Timelapse
Folien
05.12.2014
Anna Duschl - Portrait
Folien
12.12.2014
Exkursion Weihnachtsmarkt
Folien
09.01.2015
Studio und Blitzanlage
Einführung (Maximilian Hackenschmied)
16.01.2015
Studio und Blitzanlage