Lecture Course Human-Computer Interaction 2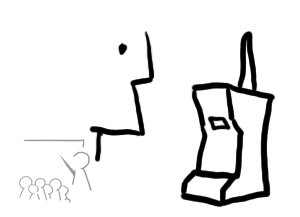 Lecturer:
Prof. Dr. Andreas Butz
Tutorials:
Dipl.-Inf. Bastian Pfleging
Hours per week:
2 (Lecture) + 2 (Tutorial)
ECTS credits:
6
Module:
WP3: Mensch-Maschine Interaktion 2 (for Master Medieninformatik und MCI)
News
06.2016:

Exam results for the retry exam are online. Exam inspection is Friday, June 17 (details below).

18.03.2016:

Exam results are online. Exam inspection is next Tuesday (details below).

25.01.2016:

No exercise on January 26 & February 2.

22.12.2015:

The exam will take place on February 17, 2016.

14.12.2015:

Next week we will have a joint Christmas lecture between MMI2 and InfoVis. It will take place during the regular InfoVis lecture on December 22, 2015, from 10-12. Room: Geschw.-Scholl-Platz 1 - Room B 106. Feel free to bring cookies. There will be no lecture on December 23, 2015 instead!

28.10.2015:

We are sorry to inform you that today's invited lecture has been cancelled.

14.10.2015:

Time and date of the tutorials are now online. The tutorials will start next week. Please enroll through UniworX.

02.10.2015:

Time and date of the lecture are now published. Details about tutorials (start: October 19) will be added soon. Please enroll through UniworX.

16.09.2015:

Further details will be announced soon.
Dates and Locations
Lecture:
Date: Wednesday 10:00 - 12:00
Location: Geschwister-Scholl-Platz 1, Room M 010
Tutorial:
Date: Tuesday 16:00 - 18:00
Location: Theresienstr. 39, Room B 139
Contents
This course deals with advanced topic in HCI and builds on the HCI class held in summer term. It covers topics like:
Desktop and Web Interfaces
Mobile and Wearable User Interfaces
Instrumented Environments
Automotive User Interfaces
Basics in GUI programming are helpful.
The lecture course is suitable for:
Media Informatics students (Diplom, Master) or Informatics (Diplom, Master) or Master MCI. This lecture will be in english. Exam questions can be optionally answered in german.
Lecture slides
Exercises
Please submit your solutions through UniworX!
Exercise
Topic
Deadline
Discussed on
Material
Exercise 1
Models
October 19, 2015, 16:00
October 20, 2015
additional material
Exercise 2
Web interfaces part I
October 26, 2015, 17:00
October 27, 2015
Wishlist
Exercise 3
Web interfaces part IU
November 03, 2015, 08:00 a.m.
November 03, 2015
Wishlist
Exercise 4
Web interfaces part III
November 10, 2015, 08:00 a.m.
November 10, 2015
 
Exercise 5
Mobile part I
November 17, 2015, 1:00 p.m.
November 17, 2015
Intro slides Android tutorial
Network example
Android tutorial part 1 (Video)
Android tutorial part 2 (Video)

Exercise 6
Mobile part II
November 24, 2015, 13:00
November 24, 2015
 
Exercise 7
Mobile part III
December 1, 2015, 13:00 and December 8, 13:00
December 1, 2015, and December 8, 2015
 
Exercise 8
Smart watches
December 8, 2015, 13:00 and December 15, 13:00
December 8, 2015, and December 15, 2015
 
Exercise 9
Gestures
January 12, 2016, 14:00
January 12, 2016
slides
Exercise 10
Automotive User Interfaces
January 19, 2016, 14:00
January 19, 2016
slides
Exam details
Date: February 17, 2016, 10:00 (s.t.) - 12:00
Deadline for registration: Wednesday, February 03, 2016
Deadline for deregistration: Wednesday, February 10, 2016
The registration is possible via Uniworx
Rooms (lastname):

A-O: main building, A 240
P-Z: main building, E 004

Melden Sie sich nur zur Klausur an, wenn Sie auch wirklich teilnehmen werden! Sollten Sie sich nach Ihrer Anmeldung noch entscheiden, doch nicht teilzunehmen, melden Sie sich bitte rechtzeitig wieder via Uniworx ab, um die Folgen einer nicht angetretenen Prüfung zu vermeiden. Ohne rechtzeitige Anmeldung ist keine Teilnahme an der Klausur möglich. Denken Sie unbedingt daran, einen Lichtbildausweis zur Prüfung mitzubringen.
Attention:

Closed book exam: lecture/exercise slides or other material is forbidden.
Calculators are not permitted.
Mobile phones, laptops and any other communication technologies are strictly forbidden. Ideally, leave them at home.
Student id card required
Real (!!) identification document required (e.g. ID card or passport)

Exam inspection: Tuesday, March 22, 2016, 14:00-15:00, Amalienstr. 17, Room 506
Retry exam details
Date: Wednesday, April 06, 2016, 10:00 (s.t.) - 12:00
Deadline for registration: Wednesday, March 23, 2016
Deadline for deregistration: Wednesday, March 30, 2016
The registration is possible via Uniworx
Rooms (lastname):

A-Z: main building, M 118

Melden Sie sich nur zur Klausur an, wenn Sie auch wirklich teilnehmen werden! Sollten Sie sich nach Ihrer Anmeldung noch entscheiden, doch nicht teilzunehmen, melden Sie sich bitte rechtzeitig wieder via Uniworx ab, um die Folgen einer nicht angetretenen Prüfung zu vermeiden. Ohne rechtzeitige Anmeldung ist keine Teilnahme an der Klausur möglich. Denken Sie unbedingt daran, einen Lichtbildausweis zur Prüfung mitzubringen.
Attention:

Closed book exam: lecture/exercise slides or other material is forbidden.
Calculators are not permitted.
Mobile phones, laptops and any other communication technologies are strictly forbidden. Ideally, leave them at home.
Student id card required
Real (!!) identification document required (e.g. ID card or passport)

Exam inspection: Friday, Jun 17, 2016, 10:45-12:00, Amalienstr. 17, Room 506