Lecture Human Computer Interaction (Mobile Interaction)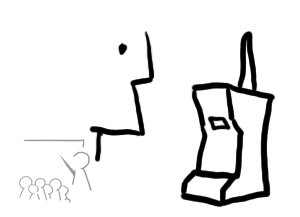 Lecturer:
Prof. Rohs
Tutorials:
Sven Kratz
Hours per week:
2 (Lecture) + 2 (Tutorial)
ECTS credits:
6
Module:
WP3: Mensch-Maschine Interaktion 2 (für Master Medieninformatik)
News
21.3.2012:

Die Nachklausur (90 Minuten Dauer) findet am 13.4.2012 von 14-16 Uhr im Hörsaal S 003 in der Schellingstr. 3 statt.

10.1.2012:

Die Klausur (90 Minuten Dauer) findet am 8.2.2012 von 10-12 Uhr im Vorlesungssaal (Geschw.-Scholl-Platz 1, F 007) statt.

7.12.2011:

Einige Beispiellösungen zu GestureWizards sind online.

11.10.2011:

Die Anmeldung zur Vorlesung ist ab sofort freigeschaltet und ist ausschließlich über das neue Uniworx-System möglich. Bitte beachten Sie, dass die Accounts des alten Uniworx-Systems nicht übernommen worden sind. Eine erneute Registrierung ist daher zwingend erforderlich.
Dates and Locations
Lecture:
Mittwoch 10-12 Uhr, Geschw.-Scholl-Platz 1, F 007, erste Vorlesung: 19.10.2011
Tutorial:
Monday 14-16 Uhr, Start: 24.10.2011, Amalienstr. 17, A105, Tutor: Steffi Grois
Monday 16-18 Uhr, Start: 24.10.2011, Amalienstr. 17, A105, Tutor: Sven Kratz
Tuesday 16-18 Uhr, Start: 25.10.2011, Amalienstr. 17, A105, Tutor: Christine Wagner

Contents
Die Veranstaltung baut auf der vorangehenden Vorlesung "Mensch-Maschine-Interaktion" auf. Hilfreich sind auch Grundkenntnisse in der Programmierung von grafischen Benutzerschnittstellen. Englische Sprachkenntnisse sind erwünscht.
The lecture course is suitable for:
Studierende der Medieninformatik (Diplom, Master) oder Informatik (Diplom, Master), Es wird stark empfohlen, vorher die Vorlesung Mensch-Maschine-Interaktion im Sommersemester zu besuchen.
Diese Lehrveranstaltung kann nur für Master-Studiengänge eingebracht werden. Die Teilnahme ist auch für Bachelor-Studierende prinzipiell möglich (Master-Studierende haben Priorität), allerdings kann die Leistung dann nicht im Bachelor-Studiengang eingebracht werden, sondern kann erst nach einer späteren Immatrikulation in einen Master-Studiengang für diesen eingebracht werden.
Lecture
Tutorial
| Abgabetermin | Topic | Aufgabenblatt |
| --- | --- | --- |
| 31.10. | Mobile Nutzungsszenarien | Übungsblatt 1, Folien zu Übungsblatt 1 |
| 7.11. | 2D Grafik, Touch Input | Übungsblatt 2, Programmgerüst, Folien zu Übungsblatt 2 |
| 14.11. | Fitts' Law | Übungsblatt 3, Programmgerüst, Folien zu Übungsblatt 3 |
| 28.11. | Touch-Screen Gesten, Animationen | Übungsblatt 4, Gesture Wizards Template, Gesture Builder, Gesture Demo, Folien zu Übungsblatt 4, Gesture Wizards Beispiel-Lösungen |
| 5.12. | Communication, Location | Übungsblatt 5, Location-Audio Template, Folien zu Übungsblatt 5 |
| 12.12. | SoundSquare | Übungsblatt 6, Folien zu Übungsblatt 6 |
| 19.12. | SoundSquare (Implementierung) | Übungsblatt 7, Programmcode zu Übung 7 |
| 16.1. | Evaluation | Übungsblatt 8, Folien zu Übungsblatt 8 |
| 23.1. | Off-Screen Visualisierung | Übungsblatt 9, Halo schmal, Halo breit, Wedge schmal, Wedge breit, Folien zu Übungsblatt 9 |
| 30.1. | Mobile Tagging | Übungsblatt 10, Folien zu Übungsblatt 10 |