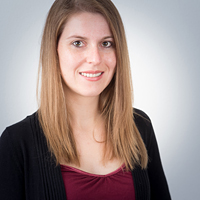 Doris Hausen
I no longer work at the University of Munich (LMU). You can still contact me via the contact data below.
Contact: doris.hausen ät ifi.lmu.de or http://herbstkind.com
---
Research Interests
Peripheral Interaction
Input Styles: Tangible Interaction, Touch Input and Freehand Gestures
Multitasking
Ambient Information
Research Projects
Peripheral Interaction: A sub form of multitasking. Tasks are not equal in this case. The peripheral task is a side task, which asks for occasional active interaction. Peripheral interaction adopts the idea of information in the periphery from ambient information and transfers it to interaction in the periphery of the user's attention. In the spirit of calm technology, devices designed for peripheral interaction might move between the center and the periphery depending on the current context, importance of a task as well as the users' needs and motivations.
StaTube
Used to control your own Skype state in the periphery of the attention and to monitor the state of selected contacts.
Published at TEI 2012 | Video
Appointement Projection
Displaying upcoming appointments on the desk. Through wiping gestures details can be acquired and a reminder can be silenced.
Published at DIS 2012 | Video
Peripheral Music Controller
Comparative study between graspable, touch and freehand interaction for peripheral interaction to control an audio player.
Published at Interact 2013
Interaction Styles & Feedback
Combining graspable, touch and freehand interaction with different visual feedback styles to offer peripheral interaction.
Published at CHI 2013
Unadorned Desk 2D & 3D
Using the space around the computer to store and retrieve items in the periphery based on spatial memory.
Published at Interact 2013 | Video
Evaluating Peripheral Interaction
Peripheral interaction, designed to blend into the environement and to be outside of the focus, requires new evaluation methods.
Published at TEI 2014 | Published at CHI 2014 | Software
Publications
2016



Download

Saskia Bakker, Doris Hausen, Ted Selker
Introduction: Framing Peripheral Interaction
In Peripheral Interaction: Challenges and Opportunities for HCI in the Periphery of Attention. Springer, Berlin, Germany, 2016. 1-10. ISBN 978-3-319-29521-3
Saskia Bakker, Doris Hausen, Ted Selker
Peripheral Interaction: Challenges and Opportunities for HCI in the Periphery of Attention
As part of the series Human-Computer Interaction Series. Springer, Berlin, Germany, 2016. ISBN 978-3-319-29521-3
2015



Download

Saskia Bakker, Doris Hausen, Elise van den Hoven, Ted Selker
Designing for Peripheral Interaction: seamlessly integrating interactive technology in everyday life
In: IxD&A: Interaction Design and Architecture(s) Journal, Vol. 26, 2015.



Download

Raoul-Thomas Herborg, Doris Hausen
Innovation und Datenschutz - kein Widerspruch
In: Claudia Linnhoff-Popien, Michael Zaddach, Andreas Grahl (Ed.): Marktplätze im Umbruch - Digitale Strategien für Services im Mobilen Internet. Springer, Berlin, Germany, 2015. 713-722. ISBN 978-3-662-43781-0
2014



Download

Sarah Tausch, Doris Hausen, Ismail Kosan, Andrey Raltchev, Heinrich Hussmann
Groupgarden: Supporting Brainstorming through a Metaphorical Group Mirror on Table or Wall
In Proceedings of the 8th Nordic Conference on Human-Computer Interaction, NordiCHI'14. Helsinki, Finland, October 26-30, 2014.



Download

Sebastian Loehmann, Marc Landau, Moritz Körber, Doris Hausen, Patrick Proppe, Maximilian Hackenschmied
The Periscope: An Experience Design Case Study
In Proceedings of the 6th International Conference on Automotive User Interfaces and Interactive Vehicular Applications, AutomotiveUI2014. Seattle, WA, USA, September 17 - 19, 2014.



Download

Andreas Butz, Gilbert Beyer, Alina Hang, Doris Hausen, Fabian Hennecke, Felix Lauber, Sebastian Loehmann, Henri Palleis, Sonja Rümelin, Bernhard Slawik, Sarah Tausch, Julie Wagner, Heinrich Hussmann
Out of Shape, Out of Style, Out of Focus: Wie sich Computer besser in unseren Alltag integrieren (lassen)
In Informatik Spektrum: Organ der Gesellschaft für Informatik e.V. und mit ihr assoziierter Organisationen. Online, May 2014.



Download

Doris Hausen, Sebastian Loehmann, Marie Lehmann
Everyday Peripheral Tasks vs. Digital Peripheral Tasks
In Extended Abstracts of the 32nd SIGCHI Conference on Human Factors in Computing Systems, CHI '14. Toronto, Canada, April 26 - May 1, 2014. ACM, New York, NY, USA. 2545-2550.



Download

Sebastian Loehmann, Doris Hausen
Automated Driving: Shifting the Primary Task from the Center to the Periphery of Attention
Workshop Peripheral Interaction: Shaping the Research and Design Space. In conjunction with 32nd SIGCHI Conference on Human Factors in Computing Systems. Toronto, Canada, April 26 - May 1, 2014. ACM, New York, NY, USA.



Download

Sebastian Loehmann, Doris Hausen, Benjamin Bisinger, Leonhard Mertl
Design of a Portable Gesture-Controlled Information Display
Workshop Gesture-based Interaction Design: Communication and Cognition. In conjunction with 32nd SIGCHI Conference on Human Factors in Computing Systems. Toronto, Canada, April 26 - May 1, 2014. ACM, New York, NY, USA.



Download

Saskia Bakker, Doris Hausen, Ted Selker, Elise van den Hoven, Andreas Butz, Berry Eggen
Peripheral Interaction: Shaping the Research and Design Space
Workshop at the the 32nd SIGCHI Conference on Human Factors in Computing Systems. Toronto, Canada. April 26 - May 1, 2014.



Download

Emanuel von Zezschwitz, Alina Hang, Doris Hausen, Renate Häuslschmid, Axel Hoesl, Felix Lauber, Sebastian Loehmann, Henri Palleis, Bernhard Slawik, Simon Stusak, Sarah Tausch, Andreas Butz, Heinrich Hussmann
Secondary Tasks
Media Informatics Advanced Seminar, Winter Term 2013/2014 (bib)



Download

Doris Hausen
Peripheral Interaction - Exploring the Design Space
PhD thesis, Faculty of Mathematics, Computer Science and Statistics, University of Munich, 2014.



Download

Doris Hausen, Aurélien Tabard, Attila von Thermann, Kerstin Holzner, Andreas Butz
Evaluating Peripheral Interaction
In Proceedings of the 8th International ACM Conference on Tangible, Embedded and Embodied Interaction - TEI 2014, Munich, Germany, February 16 - 19, 2014.
2013



Download

Max Maurer, Alexander De Luca, Alina Hang, Doris Hausen, Fabian Hennecke, Sebastian Loehmann, Henri Palleis, Hendrik Richter, Simon Stusak, Aurélien Tabard, Sarah Tausch, Emanuel von Zezschwitz, Franziska Schwamb, Heinrich Hussmann, Andreas Butz
Long-Term Experiences with an Iterative Design of a QR-Code-Based Payment System for Beverages
In Proceedings of the 14th IFIP TC13 Conference on Human-Computer Interaction (INTERACT 2013). Cape Town, South Africa, September 2-6 2013.



Download

Doris Hausen, Saskia Bakker, Elise van den Hoven, Andreas Butz, Berry Eggen
Peripheral Interaction: Embedding HCI in Everyday Life
Workshop at the 14th IFIP TC13 Conference on Human-Computer Interaction (INTERACT 2013). Cape Town, South Africa, September 2-6 2013.



Download

Doris Hausen, Sebastian Boring, Saul Greenberg
The Unadorned Desk: Exploiting the Physical Space around a Display as an Input Canvas
In Proceedings of the 14th IFIP TC13 Conference on Human-Computer Interaction (INTERACT 2013). Cape Town, South Africa, September 2-6 2013.



Download

Doris Hausen, Hendrik Richter, Adalie Hemme, Andreas Butz
Comparing Input Modalities for Peripheral Interaction: A Case Study on Peripheral Music Control
In Proceedings of the 14th IFIP TC13 Conference on Human-Computer Interaction (INTERACT 2013). Cape Town, South Africa, September 2-6 2013.



Download

Doris Hausen, Fabian Hennecke, Nora Broy, Alina Hang, Sebastian Loehmann, Max Maurer, Sonja Rümelin, Sarah Tausch, Emanuel von Zezschwitz, Andreas Butz, Heinrich Hussmann
Visualize!
Media Informatics Advanced Seminar, Summer Term 2013 (bib)



Download

Doris Hausen, Christine Wagner, Sebastian Boring, Andreas Butz
Comparing Modalities and Feedback for Peripheral Interaction
In Extended Abstracts of the 31st ACM SIGCHI Conference on Human Factors in Computing Systems, CHI '13. Paris, France, April 27 - May 2, 2013.



Download

Henri Palleis, Alina Hang, Doris Hausen, Fabian Hennecke, Felix Lauber, Sonja Rümelin, Simon Stusak, Sarah Tausch, Emanuel von Zezschwitz, Andreas Butz, Heinrich Hussmann
Beyond the Desktop
Media Informatics Advanced Seminar, Winter Term 2012/2013 (bib)



Download

Robert Kowalski, Sebastian Loehmann, Doris Hausen
cubble: A Multi-Device Hybrid Approach Supporting Communication in Long-Distance Relationships
In Proceedings of the 7th International ACM Conference on Tangible, Embedded and Embodied Interaction - TEI 2013, Barcelona, Spain, February 10 - 13, 2013.
2012



Download

Hendrik Richter, Doris Hausen, Sven Osterwald, Andreas Butz
Reproducing Materials of Virtual Elements on Touchscreens using Supplemental Thermal Feedback
ICMI 2012: 14th ACM International Conference on Multimodal Interaction, Santa Monica, California. October 22-26th, 2012 (bib)



Download

Doris Hausen, Sebastian Boring, Julia Polleti, Andreas Butz
Exploring Design and Combination of Ambient Information and Peripheral Interaction
In Proceedings of the 9th International ACM Conference on Designing interactive Systems, DIS '12, Work in Progress. Newcastle, UK, June 11 - 15, 2012.



Download

Doris Hausen
Reducing Cognitive Load by Using the Periphery of our Attention
Workshop Designing for Cognitive Limitations. In conjunction with 9th International ACM Conference on Designing interactive Systems, DIS '12. Newcastle, UK, June 11 - 15, 2012.



Download

Max Maurer, Rainer Waxenberger, Doris Hausen
BroAuth: Evaluating Different Levels of Visual Feedback for 3D Gesture-Based Authentication
In Proceedings of the 11th International Working Conference on Advanced Visual Interfaces - AVI 2012, Capri, Naples, Italy, May 21 - 25, 2012 (bib)



Download

Doris Hausen
Peripheral Interaction: Facilitating Interaction with Secondary Tasks
In Proceedings of the 6th International ACM Conference on Tangible, Embedded and Embodied Interaction - TEI 2012, Kingston, Ontario, Canada, February 19 - 22, 2012. 387-388.



Download

Doris Hausen, Sebastian Boring, Clara Lueling, Simone Rodestock, Andreas Butz
StaTube: Facilitating State Management in Instant Messaging Systems
In Proceedings of the 6th International ACM Conference on Tangible, Embedded and Embodied Interaction - TEI 2012, Kingston, Ontario, Canada, February 19 - 22, 2012. 283-290.
2011



Download

Doris Hausen, Bettina Conradi, Alina Hang, Fabian Hennecke, Sven Kratz, Sebastian Loehmann, Hendrik Richter, Andreas Butz, Heinrich Hussmann
Ubiquitous Computing
Media Informatics Advanced Seminar, Summer Term 2011 (bib)



Download

Doris Hausen, Andreas Butz
Extending Interaction to the Periphery
Workshop Embodied Interaction: Theory and Practice in HCI. In conjunction with 29th ACM International Conference on Human Factors in Computing Systems (CHI 2011), Vancouver, BC, Canada, May 07-12, 2011



Download

Alexander De Luca, Bernhard Frauendienst, Max Maurer, Doris Hausen, Julian Seifert, Niels Kammerer, Heinrich Hussmann
Does MoodyBoard Make Internet Use more Secure? Evaluating an Ambient Security Visualization Tool
In CHI '11: Proceedings of the 29th international conference on Human factors in computing systems. Vancouver, BC, Canada, May 7 - 12, 2011. ACM, New York, NY, USA, 887-890. DOI= http://doi.acm.org/10.1145/1978942.1979072, ISBN 978-1-4503-0228-9. (bib)



Download

Doris Hausen, Andreas Butz
Entangling Ambient Information with Peripheral Interaction
Workshop Work-in-Progress. 5th ACM Conference on Tangible, Embedded and Embodied Interaction (TEI 2011), Funchal, Portugal, January 23 - 26, 2011
2010



Download

Max Maurer, Doris Hausen, Alexander De Luca, Heinrich Hussmann
Mobile or Desktop Websites? Website Usage on Multitouch Devices
In NordiCHI2010: Proceedings of the 6th Nordic Conference on Human-Computer Interaction, Reykjavik, Iceland, October 16 - 20, 2010. 739-742. ACM, New York, NY. ISBN: 978-1-60558-934-3 http://doi.acm.org/10.1145/1868914.1869018 (bib)



Download

Gregor Broll, Doris Hausen
Mobile and Physical User Interfaces for NFC-based Mobile Interaction with Multiple Tags
In Proceedings of the 12th International Conference on Human-Computer Interaction with Mobile Devices and Services (MobileHCI 2010), Lisboa, Portugal, September 07 - 10, 2010. ISBN: 978-1-60558-835-3 http://dx.doi.org/10.1145/1851600.1851624



Download

Alexander De Luca, Bernhard Frauendienst, Max Maurer, Doris Hausen
On the Design of a "moody" Keyboard
In DIS '10: Proceedings of the 8th ACM Conference on Designing interactive Systems. Aarhus, Denmark, August 16 - 20, 2010. ACM, New York, NY, 236-239. DOI= http://doi.acm.org/10.1145/1858171.1858213, ISBN 978-1-4503-0103-9. (bib)



Download

Bettina Conradi, Doris Hausen, Fabian Hennecke, Max Maurer, Hendrik Richter, Alexander Wiethoff, Heinrich Hussmann
Prototyping
Media Informatics Advanced Seminar, Winter Term 2009/2010 (bib)
2009



Download

Doris Hausen
Design and Distribution of Physical and Mobile Interfaces for Multi-Tag Interaction
Diploma Thesis, Ludwig-Maximilians-Universität München, 2009 (bib)
Scientific Services
Editor of the IxD&A special issue on "Designing for Peripheral Interaction: seamlessly integrating interactive technology in everyday life together" with Saskia Bakker, Elise van den Hoven and Ted Selker.
Conference on Tangible, Embedded and Embodied Interaction (TEI) 2014 as Local Arrangements Chair together with Sebastian Löhmann and Fabian Hennecke & Program Committee Member
Workshop on Peripheral Interaction: Shaping the Research and Design Space at CHI 2014 together with Saskia Bakker, Ted Selker, Elise van den Hoven, Andreas Butz and Berry Eggen
Workshop on Peripheral Interaction: Embedding HCI in Everyday Life at INTERACT 2013 together with Saskia Bakker, Elise van den Hoven, Andreas Butz and Berry Eggen
Reviewer for CHI, DIS, TEI, NordiCHI, NIME, I-Com
Teaching Assistance
Wintersemester 2013/2014

Sommersemester 2013

Wintersemester 2012/2013

Sommersemester 2012

Wintersemester 2011/2012

Sommersemester 2011

Wintersemester 2010/2011

Sommersemester 2010

Wintersemester 2009/2010

Bachelor, Master, Project and Diploma Theses
Finished topics