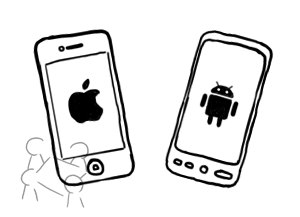 Practical Course PEM and PMG
Lecturer: Prof. Heinrich Hußmann
Tutorials: Dr. Alexander De Luca
Hours per week: 5 (Tutorial)
ECTS credits: 6
Modul (PEM): P5.0.2 oder P5.0.4: Gruppenpraktikum zu fortgeschrittenen Themen der Informatik I oder Informatik II
Nach Rücksprache mit dem Prüfungsausschuss auch Anerkennung für P2, P3 oder P6 (Vertiefende Themen für Master) möglich
Modul (PMG): Projektkompetenz Multimedia (BSc), Gruppenpraktikum (MSc)
Aktuelles
01.02.2013 Webseite online.
Termine und Ort
Termin 11.03.-22.03.: 9:00 - 18:00
Ort Amalienstraße 17, Rückgebäude (Studio)
Inhalt
The goal of the practical course is to create videos and a convenience app for the conferences MobileHCI 2013 and TEI 2014. Both are meant as support for the conference attendees.
Each participant can freely choose whether to have the practical course count as "Praktikum Enwicklung von Mediensystemen" or "Praktikum Mediengestaltung".
Anmeldung
This practical course has a maximum number of 12 students (4 iOS, 4 Android, 4 video). To get the chance to participate, you have to register using Uniworx (deadline: February 22, 2013). Participants are chosen based on their skills. The registration document should contain:
Group (iOS, Android or video)
Related knowledge and skills (programming experience, video editing, etc.)