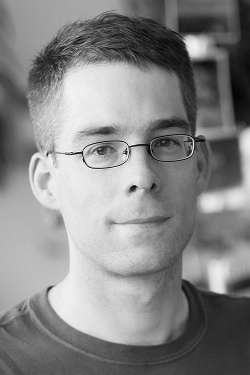 Prof. Dr. Michael Rohs
Email
michael.rohs ät ifi.lmu.de
Phone
+49-89/2180-4657
Fax
+49-89/2180-4652
Address
Michael Rohs
Universität München, LFE Medieninformatik
Amalienstr. 17
80333 München
Germany
Room
502 (5th floor)
---
Since July 2012, I am a Professor of Human-Computer Interaction in the Faculty of Electrical Engineering and Computer Science at the Leibniz Universität Hannover, Germany.
My primary research interests are in mobile human-computer interaction, mobile interactive media, and pervasive computing. My work focuses on novel interaction techniques for mobile devices, applications of computer vision techniques in mobile HCI, the usage of sensors for mobile interactions, and the integration of physical and virtual resources in the user's environment.
I received a Diplom in Computer Science from the Technische Universität Darmstadt, Germany, a Master's degree in Computer Science from the University of Colorado at Boulder, USA, and a Ph.D. in Computer Science from ETH Zurich, Switzerland. In the past, I worked as a research assistant in the Distributed Systems Group at ETH Zurich and as a senior research scientist at Deutsche Telekom Laboratories, Technischen Universität Berlin, Germany.
---
Teaching
---
Professional Services
Conference co-chair. International Conference on Human-Computer Interaction with Mobile Devices and Services (MobileHCI 2013), Munich, Germany, August 27-30, 2013
Associate chair. International Conference on Human-Computer Interaction with Mobile Devices and Services (MobileHCI 2012), San Francisco, USA, September, 2012
Program committee. Mensch & Computer 2012, Konstanz, Germany, September 9-12, 2012
Program committee. International Symposium on Pervasive Displays, Porto, Portugal, June 4-5, 2012
Associate chair. ACM Conference on Human Factors in Computing Systems (CHI 2012), Austin, Texas, May 5-10, 2012
Program committee. 7th Nordic Conference on Human-Computer Interaction (NordiCHI 2012), Copenhagen, Denmark, October 14-17, 2012
Program committee. Mensch & Computer 2011, Chemnitz, Germany, September 11-14, 2011
Co-organizer. Workshop Body, Movement, Gestures & Tactility in Interaction with Mobile Devices at Mobile HCI 2011, Stockholm, Sweden, August 30, 2011
Associate chair. ACM Conference on Human Factors in Computing Systems (CHI 2011), Vancouver, Canada, May 7-12, 2011
Program committee. 2011 International Conference on Intelligent User Interfaces (IUI 2011), Palo Alto, California, USA, February 13-16, 2011
Co-organizer. MP2: Workshop on Mobile and Personal Projection, May 8, 2011, at CHI 2011
Program co-chair. 9th International Conference on Mobile and Ubiquitous Multimedia (MUM 2010), Limassol, Cyprus, December 1-3, 2010
Poster co-chair. ACM International Conference on Interactive Tabletops and Surfaces (ITS 2010), Saarbrücken, Germany, November 7-10, 2010
Program committee. 7th International Conference on Ubiquitous Intelligence and Computing (UIC 2010), Xi'an, China, October 26-29, 2010
Program committee. Mensch & Computer 2010, Duisburg, Germany, September 12-15, 2010
Program committee. International Conference on Human-Computer Interaction with Mobile Devices and Services (MobileHCI 2010), Lisboa, Portugal, September 7-10, 2010
Co-organizer. The Second International Workshop on Mobile Multimedia Processing, August 22, 2010, at ICPR 2010
Program committee. 8th International Conference on Pervasive Computing (Pervasive 2010), Helsinki, Finland, May 7-12, 2010
Co-organizer. Workshop on Ubiprojection 2010, May 17, 2010, at Pervasive 2010
Co-organizer. Workshop on Mobile and Embedded Interactive Systems (MEIS'09), September 29, 2009, at Informatik 2009
Program committee. 6th International Conference on Ubiquitous Intelligence and Computing (UIC 2009), St. Lucia, Brisbane, Australia, July 7-9, 2009
Program committee. 12th AGILE International Conference on Geographic Information Science (AGILE 2009), Hannover, Germany, June 2-5, 2009
Program committee. International Conference on Human-Computer Interaction with Mobile Devices and Services (MobileHCI 2009), Bonn, Germany, September 15-18, 2009
Program committee. Seventh Annual IEEE International Conference on Pervasive Computing and Communications (PerCom 2009), Galveston, Texas, USA, March 9-13, 2009
Co-organizer. Workshop on Trends in Pervasive and Ubiquitous Geotechnology and Geoinformation, September 23, 2008, at GIScience 2008
Program committee. 7th International Conference on Mobile and Ubiquitous Multimedia (MUM 2008), Umea, Sweden, December 3-5, 2008
Co-organizer. Workshop on Mobile Interaction with the Real World (MIRW'08), September 2, 2008, at Mobile HCI 2008
Co-organizer. Workshop on Mobile and Embedded Interactive Systems (MEIS'08), September 11, 2008, at Informatik 2008
Program committee. 2nd International Conference on Tangible and Embedded Interaction (TEI 2008), Bonn, Germany, February 18-20, 2008
Program committee. 6th International Conference on Mobile and Ubiquitous Multimedia (MUM 2007), Oulu, Finland, December 12-14, 2007
Co-organizer. Workshop on Mobile and Embedded Interactive Systems (MEIS'06), October 9, 2006, at Informatik 2006
Program committee. 8th International Conference on Multimodal Interfaces (ICMI 2006), Banff, Canada, November 2-4, 2006
Co-organizer. Tutorial on Development of Interactive Applications for Mobile Devices, September 19, 2005, at Mobile HCI 2005
---
Publications
2017



Download

Mariam Hassib, Stefan Schneegass, Max Pfeiffer, Michael Rohs, Florian Alt
Emotion Actuator: Embodied Emotional Feedback through Electroencephalography and Electrical Muscle Stimulation
In CHI '17 Proceedings of the 35th SIGCHI Conference on Human Factors in Computing Systems. Denver, CO, USA, May 6 - 11, 2017. ACM, New York, NY, USA. (bib)
2015



Download

Max Pfeiffer, Tim Duente, Stefan Schneegass, Florian Alt, Michael Rohs
Cruise Control for Pedestrians: Controlling Walking Direction using Electrical Muscle Stimulation
In CHI '15: Proceedings of the SIGCHI Conference on Human Factors in Computing Systems. Seoul, South Korea, April 18 - 23, 2015. ACM, New York, NY, USA.
doi: 10.1145/2702123.2702252 (bib)
2014
Max Pfeiffer, Stefan Schneegass, Florian Alt, Michael Rohs
A Design Space for Electrical Muscle Stimulation Feedback for Freehand Interaction
In Assistive Augmentation '14: Proceedings of the First CHI Workshop on Assistive Augmentation. Toronto, Canada, April 26 - May 1, 2014. (bib)



Download

Max Pfeiffer, Stefan Schneegass, Florian Alt, Michael Rohs
Let Me Grab This: A Comparison of EMS and Vibration for Haptic Feedback in Free-Hand Interaction
In AH'14: Proceedings of the 5th Augmented Human International Conference. Kobe, Japan, May 7 - 9, 2014, ACM, New York, NY, USA. (bib)
2013



Download

Alexander Wiethoff, Hanna Schneider, Julia Küfner, Michael Rohs, Andreas Butz, Saul Greenberg
Paperbox: A toolkit for exploring tangible interaction on interactive surfaces
In Proceedings of the 9th ACM Conference on Creativity and Cognition, CC '13. Sydney, Australia, 17 - 20 June, 2013.
2012
Sven Kratz, Michael Rohs, Felix Reitberger, Jörg Moldenhauer
Attjector: an Attention-Following Mobile Projector
Kinect Workshop at Pervasive 2012 (bib)



Download

Sven Kratz, Dennis Guse, Michael Rohs, Jörg Müller, Gilles Bailly, Michael Nischt
PalmSpace: Continuous Around-Device Gestures vs. Multitouch for 3D Rotation Tasks on Mobile Devices
Advanced Visual Interfaces, International Working Conferencein cooperation with ACM-SIGCHI, ACM-SIGMM, SIGCHI Italy, Capri Island (Naples), Italy May 21-25, 2012 (bib)
Gilles Bailly, Jörg Müller, Michael Rohs, Daniel Wigdor, Sven Kratz
ShoeSense: A New Perspective on Gestural Interaction and Wearable Applications
Accepted for CHI 2012 (bib)



Download

Alexander Wiethoff, Hanna Schneider, Michael Rohs, Andreas Butz, Saul Greenberg
Sketch-a-TUI: Low Cost Prototyping of Tangible Interactions Using Cardboard and Conductive Ink
In Proceedings of the 6th International ACM Conference on Tangible, Embedded and Embodied Interaction - TEI 2012, Kingston, Canada, February 19 - 22, 2012 (bib)
2011
Katrin Wolf, Anja Naumann, Michael Rohs, Jörg Müller
Taxonomy of Microinteractions: Defining Microgestures based on Ergonomic and Scenario-Dependent Requirements
Proceedings of the 13th IFIP TC 13 International Conference on Human-Computer Interaction (INTERACT'11) (bib)
Qian Qin, Michael Rohs, Sven Kratz
Dynamic ambient lighting for mobile devices
UIST '11 Adjunct Proceedings of the 24th annual ACM symposium adjunct on User interface software and technology (bib)
Michael Rohs, Antti Oulasvirta, Tiia Suomalainen
Interaction with Magic Lenses: Real-World Validation of a Fitts' Law Model
Proceedings of CHI 2011, Vancouver, Canada, May 7-12, 2011. Note. (bib)
Sven Kratz, Tilo Westermann, Michael Rohs, Georg Essl
CapWidgets: Tangible Widgets versus Multi-Touch Controls on Mobile Devices
Work in Progress, CHI 2011, Vancouver, Canada, May 7-12, 2011. (bib)
Alireza Sahami, Michael Rohs, Robert Schleicher, Sven Kratz, Alexander Müller, Albrecht Schmidt
Real-Time Nonverbal Opinion Sharing through Mobile Phones during Sports Events
Proceedings of CHI 2011, Vancouver, Canada, May 7-12, 2011. Note. (bib)



Download

Sven Kratz, Michael Rohs
Protractor3D: A Closed-Form Solution to Rotation-Invariant 3D Gestures
Proceedings of the International Conference on Intelligent User Interfaces (IUI 2011), Palo Alto, CA, USA, February 13-16, 2011. Short paper. (bib)



Download

Sven Kratz, Michael Rohs
Protractor3D: A Closed-Form Solution to Rotation-Invariant 3D Gestures
Proceedings of the International Conference on Intelligent User Interfaces (IUI 2011), Palo Alto, CA, USA, February 13-16, 2011. Short paper. (bib)
2010



Download

Michael Rohs, Sven Kratz, Robert Schleicher, Alireza Sahami, Albrecht Schmidt
WorldCupinion: Experiences with an Android App for Real-Time Opinion Sharing during World Cup Soccer Games
Research in the Large: Using App Stores, Markets and other wide distribution channels in UbiComp research. Workshop at Ubicomp 2010, Copenhagen, Denmark, September 26, 2010. (bib)



Download

Benjamin Bähr, Sven Kratz, Michael Rohs
A Tabletop System for supporting Paper Prototyping of Mobile Interfaces
PaperComp 2010: 1st International Workshop on Paper Computing. Workshop at Ubicomp 2010, Copenhagen, Denmark, September 26, 2010. (bib)



Download

Chris Kray, Daniel Nesbitt, John Dawson, Michael Rohs
User-Defined Gestures for Connecting Mobile Phones, Public Displays, and Tabletops
Proceedings of the 11th International Conference on Human Computer Interaction with Mobile Devices and Services (MobileHCI 2010), Lisboa, Portugal, September 7-10, 2010. Best Full-Paper Award. (bib)



Download

Sven Kratz, Ivo Brodien, Michael Rohs
Semi-Automatic Zooming for Mobile Map Navigation
Proceedings of the 11th International Conference on Human Computer Interaction with Mobile Devices and Services (MobileHCI 2010), Lisboa, Portugal, September 7-10, 2010. (bib)



Download

Georg Essl, Michael Rohs, Sven Kratz
Use the Force (or something) - Pressure and Pressure-Like Input for Mobile Music Performance
Proceedings of the International Conference on New Interfaces for Musical Expression (NIME 2010), Sydney, Australia, June 15-18 2010. Short paper. (bib)



Download

Craig Stewart, Michael Rohs, Georg Essl, Sven Kratz
Characteristics of Pressure-Based Input for Mobile Devices
Proceedings of the ACM Conference on Human Factors in Computing Systems (CHI 2010), Atlanta, Georgia, USA, April 10-15, 2010. Full paper. (bib)



Download

Sven Kratz, Fabian Hemmert, Michael Rohs
Natural User Interfaces in Mobile Phone Interaction
Workshop on Natural User Interfaces at CHI 2010, Atlanta, Georgia, USA, April 10, 2010. (bib)



Download

Sven Kratz, Michael Rohs
Extending the Virtual Trackball Metaphor to Rear Touch Input
Proceedings of the IEEE Symposium on 3D User Interfaces (3DUI 2010), Waltham, Massachusetts, USA, March 20-21, 2010. Tech note. (bib)



Download

Sven Kratz, Michael Rohs
$3 Gesture Recognizer: Simple Gesture Recognition for Devices Equipped with 3D Acceleration Sensors
Proceedings of the International Conference on Intelligent User Interfaces (IUI 2010), Hong Kong, China, February 7-10, 2010. Short paper. (bib)
2009



Download

Georg Essl, Michael Rohs, Sven Kratz
Squeezing the Sandwich: A Mobile Pressure-Sensitive Two-Sided Multi-Touch Prototype
Demonstration at the 22nd Annual ACM Symposium on User Interface Software and Technology (UIST), Victoria, BC, Canada. (bib)



Download

Johannes Schöning, Keith Cheverst, Markus Löchtefeld, Antonio Krüger, Michael Rohs, Faisal Taher
PhotoMap: Using Spontaneously taken Images of Public Maps for Pedestrian Navigation Tasks on Mobile Devices
10th International Conference on Human Computer Interaction with Mobile Devices and Services (MobileHCI), Bonn, Germany, September 15-18, 2009. Best Full-Paper Award. (bib)



Download

Michael Rohs, Johannes Schöning, Robert Schleicher, Georg Essl, Anja Naumann, Antonio Krüger
Impact of Item Density on Magic Lens Interactions
10th International Conference on Human Computer Interaction with Mobile Devices and Services (MobileHCI), Bonn, Germany, September 15-18, 2009. Short paper. (bib)



Download

Markus Löchtefeld, Johannes Schöning, Michael Rohs, Antonio Krüger
LittleProjectedPlanet: An Augmented Reality Game for Camera Projector Phones
Workshop on Mobile Interaction with the Real World (MIRW at MobileHCI 2009), Bonn, Germany, September 15, 2009. (bib)



Download

Sven Kratz, Michael Rohs
HoverFlow: Expanding the Design Space of Around-Device Interaction
10th International Conference on Human Computer Interaction with Mobile Devices and Services (MobileHCI), Bonn, Germany, September 15-18, 2009. Full paper. (bib)
Chris Kray, Michael Rohs, Jonathan Hook, Sven Kratz
Bridging the Gap between the Kodak and the Flickr Generations: A Novel Interaction Technique for Collocated Photo Sharing
International Journal on Human-Computer Studies (IJHCS), September 2009. (bib)
Michael Rohs, Robert Schleicher, Johannes Schöning, Georg Essl, Anja Naumann, Antonio Krüger
Impact of Item Density on the Utility of Visual Context in Magic Lens Interactions
Springer Personal and Ubiquitous Computing, July 2009 (bib)
Georg Essl, Michael Rohs
Interactivity for Mobile Music Making
Organised Sound, Issue 14(2), Cambridge University Press, 2009. (bib)



Download

Johannes Schöning, Florian Daiber, Antonio Krüger, Michael Rohs
Using Hands and Feet to Navigate and Manipulate Spatial Data
CHI 2009, Work in Progress, pp. 4663-4668, Bosten, MA, USA, April, 4-9, 2009. (bib)
Johannes Schöning, Michael Rohs, Sven Kratz, Markus Löchtefeld, Antonio Krüger
Map Torchlight: A Mobile Augmented Reality Camera Projector Unit
CHI 2009, Work in Progress, pp. 3841-3846, Bosten, MA, USA, April, 4-9, 2009. (bib)



Download

Sven Kratz, Michael Rohs
Unobtrusive Tabletops: Linking Personal Devices with Regular Tables
Workshop on Multitouch and Surface Computing at CHI '09, Boston, MA, USA, April 4, 2009. (bib)
2008



Download

Johannes Schöning, Michael Rohs, Antonio Krüger
Spatial Authentication on Large Interactive Multi-Touch Surfaces
Adjunct Proceedings of the 3rd IEEE Workshop on Tabletops and Interactive Surfaces (IEEE Tabletop 2008), Amsterdam, the Netherlands, October 1-3, 2008 (bib)



Download

Chris Kray, Michael Rohs, Jonathan Hook, Sven Kratz
Group Coordination and Negotiation through Spatial Proximity Regions around Mobile Devices on Augmented Tabletops
3rd IEEE Workshop on Tabletops and Interactive Surfaces (IEEE Tabletop 2008) (bib)



Download

Michael Mock, Michael Rohs
A GPS Tracking Application with a Tilt- and Motion-Sensing Interface
Workshop on Mobile and Embedded Interactive Systems (MEIS at Informatik 2008), Munich, Germany, September 11, 2008 (bib)



Download

Sven Kratz, Michael Rohs
Navigating Dynamically-Generated High Quality Maps on Tilt-Sensing Mobile Devices
Workshop on Mobile and Embedded Interactive Systems (MEIS at Informatik 2008), Munich, Germany, September 11, 2008 (bib)



Download

Johannes Schöning, Michael Rohs, Antonio Krüger
Mobile Interaction with the "Real World"
Workshop on Mobile Interaction with the Real World (MIRW at MobileHCI 2008), Amsterdam, The Netherlands, September 2, 2008 (bib)
Niels Henze, Gregor Broll, Enrico Rukzio, Michael Rohs, Andreas Zimmermann, Susanne Boll
Mobile Interaction with the Real World (MIRW) 2008
Proceedings of Mobile Interaction with the Real World (MIRW 2008), Workshop in conjunction with the 10th International Conference on Human-Computer Interaction with Mobile Devices and Services (MobileHCI 2008), Amsterdam, the Netherlands, September 2, 2008, ISBN 978-3-8142-2134-2



Download

Keith Cheverst, Johannes Schöning, Antonio Krüger, Michael Rohs
Photomap: Snap, Grab and Walk away with a "YOU ARE HERE" Map
Workshop on Mobile Interaction with the Real World (MIRW at MobileHCI 2008), Amsterdam, The Netherlands, September 2, 2008 (bib)



Download

Till Schäfers, Michael Rohs, Sascha Spors, Alexander Raake, Jens Ahrens
Designing Low-Dimensional Interaction for Mobile Navigation in 3D Audio Spaces
34th International Conference of the Audio Engineering Society (AES 2008), Jeju Island, Korea, August 28-30, 2008 (bib)



Download

Michael Rohs, Georg Essl
Sensing-Based Interaction for Information Navigation on Handheld Displays
Advances in Human-Computer Interaction, Volume 2008 (2008), Article ID 450385, 11 pages, doi:10.1155/2008/450385 (bib)



Download

Ananya Misra, Georg Essl, Michael Rohs
Microphone as Sensor in Mobile Phone Performance
Proceedings of the 8th International Conference on New Interfaces for Musical Expression (NIME 2008), Genova, Italy, June 5-7, 2008 (bib)



Download

Johannes Schöning, Michael Rohs, Antonio Krüger
Using Mobile Phones to Spontaneously Authenticate and Interact with Multi-Touch Surfaces
Proceedings of the Workshop on Designing Multi-Touch Interaction Techniques for Coupled Public and Private Displays (PPD at AVI 2008), Naples, Italy, May 31, 2008 (bib)



Download

Johannes Schöning, Michael Rohs, Antonio Krüger, Christoph Stasch
Improving the Communication of Spatial Information in Crisis Response by Combining Paper Maps and Mobile Devices
Proceedings of the 2nd International Symposium on Mobile Information Technology for Emergency Response (Mobile Response 2008), Springer LNCS, Sankt Augustin, Germany, May 29-30, 2008 (bib)



Download

Michael Rohs, Antti Oulasvirta
Target Acquisition with Camera Phones when used as Magic Lenses
Proceedings of the SIGCHI Conference on Human Factors in Computing Systems (CHI 2008), ACM Press, Florence, Italy, April 6-10, 2008 (bib)



Download

Chris Kray, Areti Galani, Michael Rohs
Facilitating Opportunistic Interaction with Ambient Displays
Workshop on Designing and Evaluating Mobile Phone-Based Interaction with Public Displays at CHI 2008, Florence, Italy, April 5, 2008 (bib)



Download

Johannes Schöning, Brent Hecht, Martin Raubal, Antonio Krüger, Meredith Marsh, Michael Rohs
Improving Interaction with Virtual Globes through Spatial Thinking: Helping users Ask "Why?"
Proceedings of the International Conference on Intelligent User Interfaces (IUI 2008), Canary Islands, Spain, January 13-16, 2008 (bib)
Oliver Rath, Johannes Schöning, Michael Rohs, Antonio Krüger
Sight Quest: A Mobile Game for Paper Maps
Adjunct Proceedings of the 2nd International Conference on Intelligent Technologies for Interactive Entertainment (INTETAIN 2008), Playa del Carmen, Cancun, Mexico, January 8-10, 2008 (bib)
Rafael "Tico" Ballagas, Michael Rohs, Jennifer G. Sheridan, Jan Borchers
The Design Space of Mobile Phone Input Techniques for Ubiquitous Computing
In: Joanna Lumsden (Ed.): Handbook of Research on User Interface Design and Evaluation for Mobile Technologies. IGI Global, Hershey, PA, USA, 2008. ISBN: 978-1-59904-871-0 (bib)