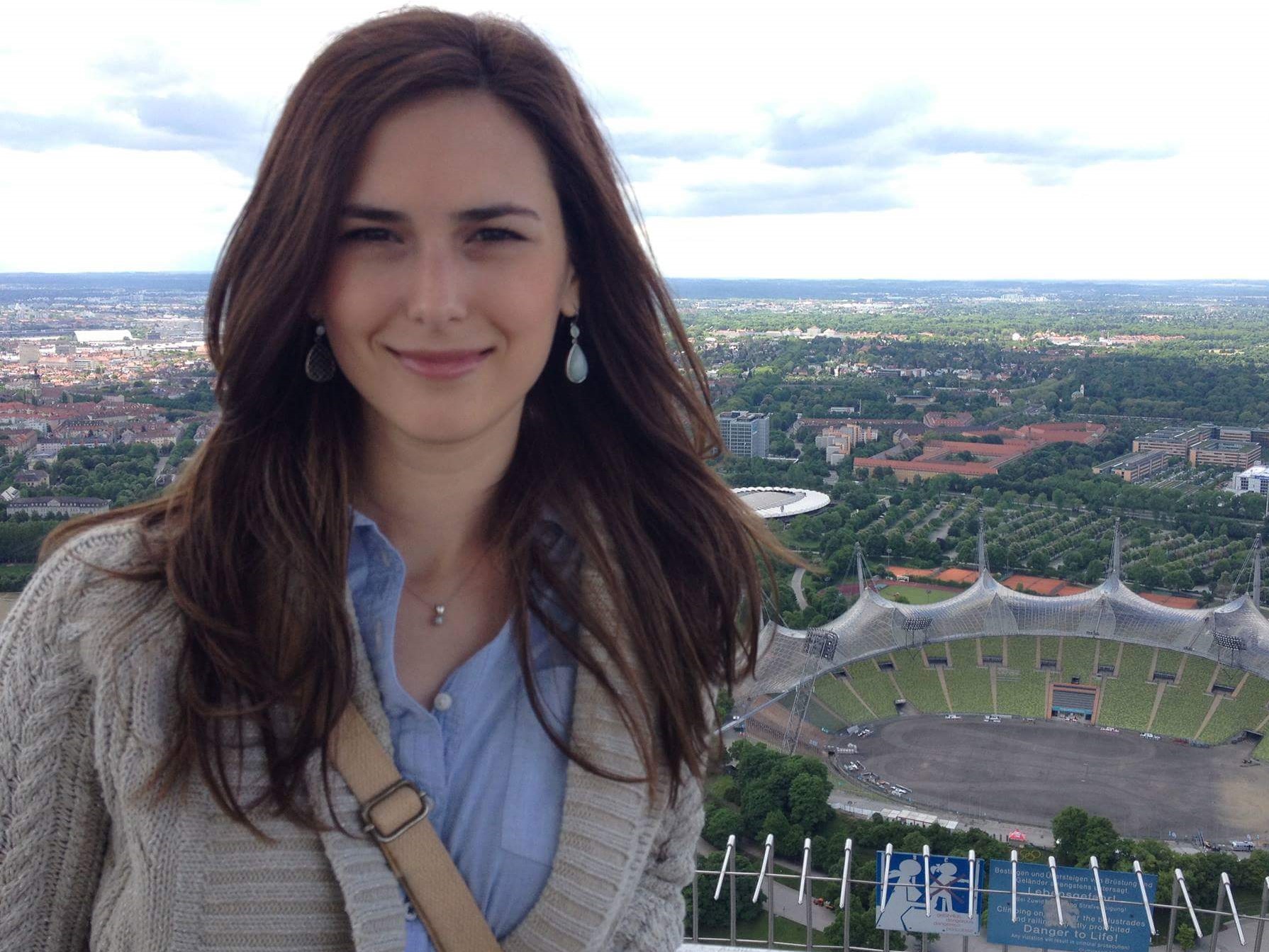 Nađa Terzimehić
E-Mail
nadja.terzimehic ät ifi.lmu.de
Phone
+49-89 / 2180-75127
Address
Nađa Terzimehić
LMU Munich
Media Informatics Group
Frauenlobstr. 7a
80337 Munich, Germany
Room
455 (4th floor)
Research Interests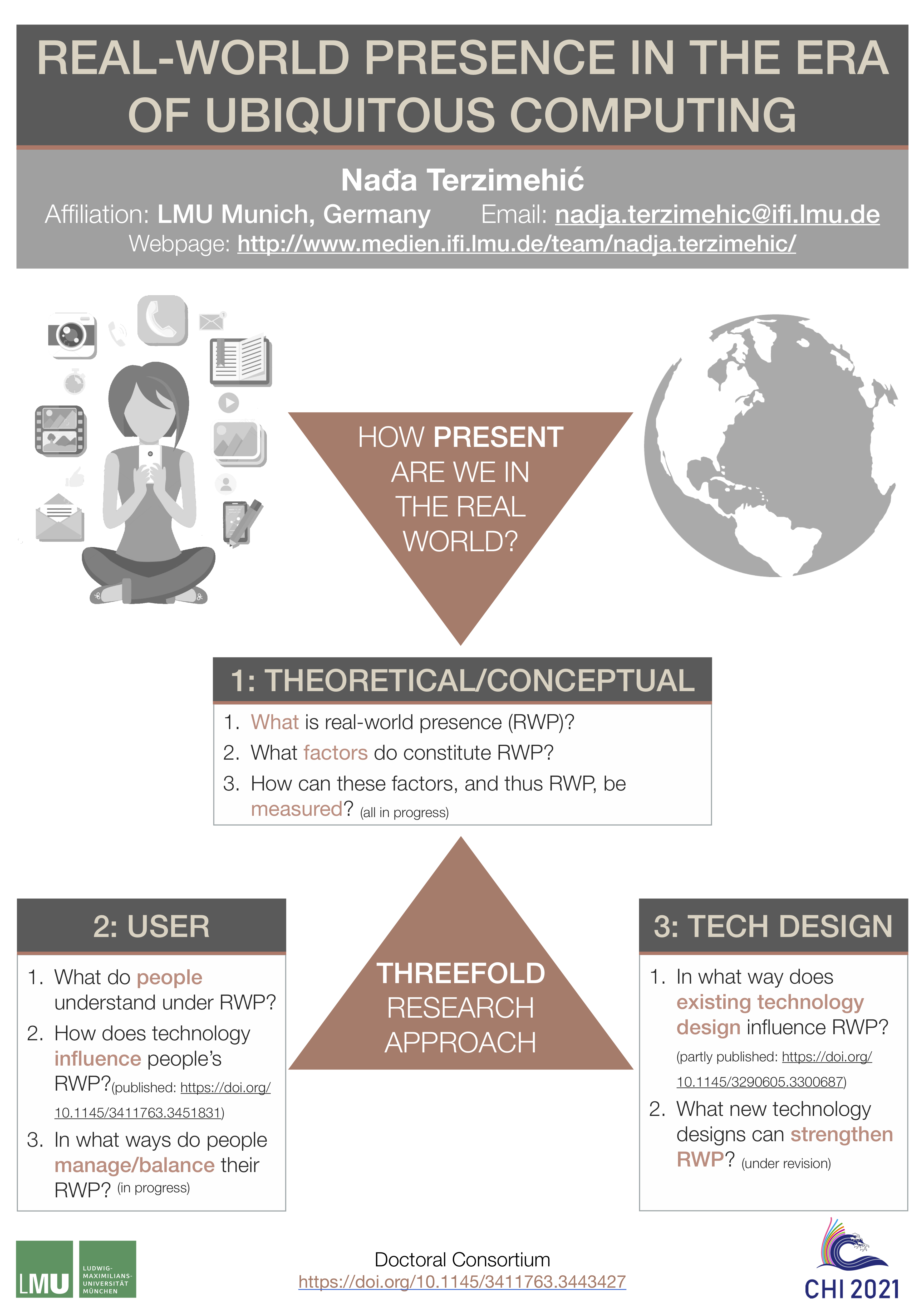 My research area evolves around mobile & ubiquitious technologies, in particular how these intertwine with our everyday life and thus influence our general well-being. It includes (but is not limited to) the study of how and why people use, e.g., smartphones in everyday life, how these influence people's physical, digital and social environment and the conflicts and advantages people face while using them. By following such an approach, my aim is to design and deploy technology in the wild that encourages a
balanced
mobile technology use.
Prior to my work at the Media Informatics Group, I have been a research & teaching associate at TUM, as well as an IT consultant at Netlight.
Theses (Bachelor/Master)
If you are interested in one of the topics below, please write me an email including a short motivation for the topic(s), your CV and your grade sheet.
Open
---
Publications
2023



Download

Nađa Terzimehić, Florian Bemmann, Miriam Halsner, Sven Mayer
A Mixed-Method Exploration into the Mobile Phone Rabbit Hole
MobileHCI 2023, Sept. 26 - 29, 2023, Athens, Greece (bib)
Nađa Terzimehić, Fiona Draxler, Mariam Ahsanpour, Albrecht Schmidt
Implicit Smartphone Use Interventions to Promote Life-Technology Balance: An App-Market Survey, Design Space and the Case of Life-Relaunched
In Mensch und Computer 2023 (MuC '23), September 3-6, 2023, Rapperswil, Switzerland. ACM, New York, NY, USA, 12 pages. https://doi.org/10.1145/3603555.3603578. (bib)



Download

Beat Rossmy, Nađa Terzimehić, Tanja Doering, Daniel Buschek, Alexander Wiethoff
Point of no Undo: Irreversible Interactions as a Design Strategy
In Proceedings of the 2023 CHI Conference on Human Factors in Computing Systems (CHI '23), April 23-28, 2023, Hamburg, Germany. ACM, New York, NY, USA, 18 pages. https://doi.org/10.1145/3544548.3581433. (bib)
Nađa Terzimehić, Carina Ressmann, Sven Mayer
Micro Real-World Challenges to Tackle Zoom Fatigue
The Future of Hybrid Care and Remote Work in HCI - CHI 2023 Workshop (bib)



Download

Nađa Terzimehić, Sarah Aragon-Hahner, Heinrich Hussmann
The Tale of a Complicated Relationship: Insights from Users' Love/Breakup Letters to Their Smartphones before and during the COVID-19 Pandemic.
Proc. ACM Interact. Mob. Wearable Ubiquitous Technol. 7, 1, Article 28 (March 2023), 34 pages. https://doi.org/10.1145/3580792. (bib)
2022



Download

Nađa Terzimehić, Sarah Aragon-Hahner
I Wish I Had: Desired Real-World Activities Instead of Regretful Smartphone Use
21st International Conference on Mobile and Ubiquitous Multimedia (MUM 2022), November 27-30, 2022, Lisbon, Portugal (bib)



Download

Nađa Terzimehić, Luke Haliburton, Philipp Greiner, Albrecht Schmidt, Heinrich Hussmann, Ville Mäkelä
MindPhone: Mindful Reflection at Unlock Can Reduce Absentminded Smartphone Use
In Designing Interactive Systems Conference (DIS '22). ACM. New York, NY, USA. pp 1818-1830. 2022. https://doi.org/10.1145/3532106.3533575. (bib)
2021



Download

Nađa Terzimehić, Svenja Schött, Florian Bemmann, Daniel Buschek
MEMEories: Internet Memes as Means for Daily Journaling
In Designing Interactive Systems Conference 2021 (DIS '21). ACM, New York, NY, USA, 538-548. DOI: https://doi.org/10.1145/3461778.3462080 (bib)
Nađa Terzimehić
Real-World Presence in the Era of Ubiquitous Computing
CHI '21 Doctoral Consortium: To appear in Extended Abstracts of the CHI Conference on Human Factors in Computing Systems (CHI EA 2021) (bib)



Download

Nađa Terzimehić, Ceenu George, Renate Häuslschmid, Heinrich Hussmann
On Ubiquitous Technology, a Digital World and their Influence on People's Feeling and Control of Presence in Everyday Life
To appear in CHI '21 EA: Extended Abstracts of the CHI Conference on Human Factors in Computing Systems (CHI EA 2021) (bib)



Download

Annika Kaltenhauser, Nađa Terzimehić, Andreas Butz
MEMEography: Understanding Users Through Internet Memes
To appear in CHI '21 EA: Extended Abstracts of the CHI Conference on Human Factors in Computing Systems (CHI EA 2021) (bib)
2019



Download

Nađa Terzimehić, Renate Häuslschmid, Heinrich Hussmann, m.c. schraefel
A Review & Analysis of Mindfulness Research in HCI: Framing Current Lines of Research and Future Opportunities
In CHI '19: Proceedings of the CHI Conference on Human Factors in Computing Systems (CHI 2019) (bib)
2018



Download

Nađa Terzimehić, Mohamed Khamis, Florian Bemmann, Heinrich Hussmann
Lunchocracy: Improving Eating Dynamics in the Workplace Using a Bot-Based Anonymous Voting System
In CHI '18 EA: Extended Abstracts of the CHI Conference on Human Factors in Computing Systems (CHI EA 2018) (bib)



Download

Nađa Terzimehić, Christina Schneegaß
Towards Finding Windows of Opportunity for Ubiquitous Healthy Eating Interventions
Proceedings of the 13th International Conference on Persuasive Technology (PERSUASIVE'18), Waterloo, ON, Canada, April 18-19, 2018 (bib)



Download

Christina Schneegaß, Nađa Terzimehić, Stefan Schneegass
Informing the Design of User-adaptive Mobile Language Learning Applications
In Proceedings of the 17th International Conference on Mobile and Ubiquitous Multimedia (pp. 233-238), ACM. Cairo, Egypt, November 25-28, 2018 (bib)
2017



Download

Nađa Terzimehić, Christina Schneegaß, Heinrich Hussmann
Exploring Challenges in Automated Just-In-Time Adaptive Food Choice Interventions
In ACM MM'17 Workshop on Multimedia & Health. Mountain View, CO, USA, Novemver 23 - 27, 2017. ACM, New York, NY, USA. (bib)