Lecture Course Interaction Design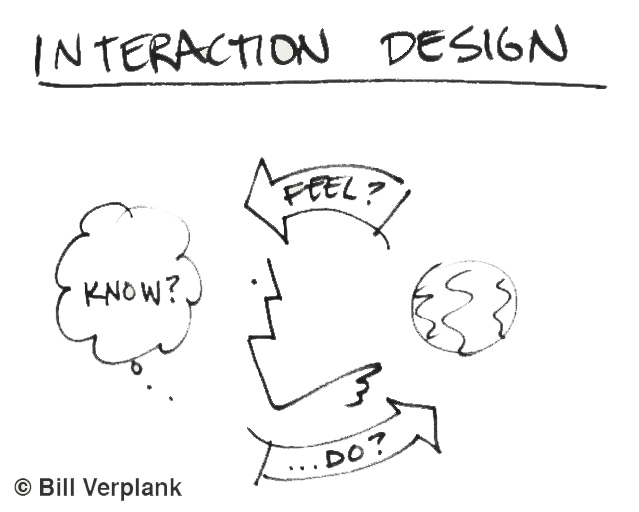 Lecturer: Dr. Alexander Wiethoff, Prof. Butz
Tutorials: Sebastian Löhmann
Guests: Nicolai Marquardt Ph.D. (UCL London)
Prof. Reto Wettach (FH Potsdam)

Hours per week: 3 (Lecture) + 2 (Tutorial)
ECTS credits: 6

Module: WP16.1 and 16.2: Interaction Design (for bachelor students with their minor subject in Human-Machine Interaction)
News
06.10.2014:

Am Dienstag den 14.10.2014 von 14 bis 15 Uhr findet die Klausureinsicht in der Amalienstraße 17, Raum 208 (2. Stock) statt. Wenn Sie teilnehmen wollen, schicken Sie bitte eine kurze EMail an Sebastian Löhmann
Morgen (Mittwoch, 18.6.) findet ein spannender Gastvortrag von Reto Wettach statt.

22.05.2014:

Die Klausur findet am 28.07.2014 statt.

22.04.2014:

Gastvorlesung von Nicolai Marquardt, Co-Autor des Buchs "Sketching User Experiences - The Workbook", am 23.04.2014.

15.04.2014:

Die Vorlesung am 16.04.2014 entfällt.

09.04.2014:

Die Videos zur Vorlesung gibt es hier

08.04.2014:

Die Anmeldung für die Vorlesung ist sofort via Uniworx möglich! Eine Anmeldung für Übungsgruppen ist nicht nötig, da die Übungen während der Vorlesungen in Form von Breakout Sessions stattfinden werden.

20.02.2014:

Weitere Informationen folgen in Kürze.
Dates and Locations
Lecture:
Date: Wednesday, 9-12
Location: Amalienstr. 73A, Room 112
Tutorial:
Wednesday 09-12, Amalienstr. 73A, Room 106

Exam:
Date: tba
Location: tba    
Tutorial
Die Teilnahme ist freiwillig. Hier haben Sie die Möglichkeit, Fachliteratur zu lesen, über aktuelle Inhalte der Vorlesung zu diskutieren oder Unterstützung zu den aktuellen Hausaufgaben oder Breakout-Sessions zu erhalten. Die wichtigen Bücher, auf denen die Vorlesung aufgebaut ist, stehen während der Tutorials zur Verfügung.
Ort und Zeit werden bekanntgegeben.
Contents
The lecture series Interaction Design imparts knowledge to understand the iterative, user centered design process of interactive systems. The lecture focuses on the users' experiences with new technological systems. Furthermore the context of developing new forms of interfaces within an interdisciplinary environment will be discussed with the help of various examples form industry.
The lecture course is suitable for:
Students with the minor subject Human-Machine Interaction in their 4th Semester
Die Vorlesung kann nicht im Masterstudiengang eingebracht werden!
Lecture
Tutorial
Die Übungen finden in Form von Breakout-Sessions direkt in den Vorlesungen statt. Dafür sind in der Regel die letzten 45 Minuten vorgesehen. Die in der Vorlesung behandelten theoretischen Konzepte sollen hier praktisch umgesetzt werden. Sie haben die Möglichkeit, den Verlauf und die Ergebnisse der Breakout-Sessions in einem Sketchbook zu sammeln. Wenn Sie dieses Sketchbook nach der letzten Vorlesung abgeben, können Sie einen Bonus von 5% für die Klausur bekommen. Um die Bonuspunkte zu erhalten, sollte aus dem Sketchbook ersichtlich sein, dass Sie die Vorlesung inkl. der Breakout-Sessions regelmäßig besucht und dokumentiert haben. Mögliche Inhalte des Sketchbooks:
Skizzen
Notizen und wichtige Folien zu den Vorlesungsinhalten
Fotos, die während der Breakout-Sessions entstanden sind
Fotos und Skizzen interessanter Interfaces oder Produkte, die im Alltag aufgefallen sind
...
Exam
Date: Friday July 28th, 2-4 p.m.
Deadline for registration: July 21st 2014
The registration is possible via Uniworx
Location: Theresienstraße 41, Raum C 123
Melden Sie sich nur zur Klausur an, wenn Sie auch wirklich teilnehmen werden! Sollten Sie sich nach Ihrer Anmeldung noch entscheiden, doch nicht teilzunehmen, melden Sie sich bitte wieder via Uniworx bis spätestens 23.07.2013 wieder ab.
Attention:

Closed book exam: lecture/exercise slides or other material is forbidden. Dictionary is allowed.
Bring a calculator with you.
Mobile phones, laptops and any other communication technologies are strictly forbidden. Leave them at home.
student id card required
Real (!!) identification document required (e.g. ID card or passport)