Disputation Seminar (Bachelor and Master)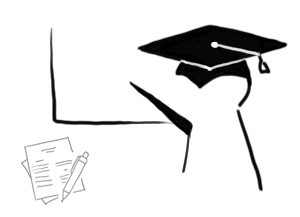 Lecturers: Prof. Hußmann, Prof. Butz
Person in Charge: Christa Feulner (Sekretariat Medieninformatik)
Hours per week: 2
ECTS credits: 3/5 (Disputation Bachelor/Master Thesis)

Dates and Locations
Date: Tuesday 14-16 (Prof. Butz)
Date: Thursday 15-17 (Prof. Hußmann)
Location: Online via Zoom
Contents
The course serves the presentation of current research topics from the environment of the chair, including guest lectures. This also includes the intermediate and final presentations, which are part of every internship, bachelor as well as master thesis. All interested students are welcome to attend the disputation seminar! In particular, regular attendance is recommended for those, who are in the process of writing their practical, bachelor or master thesis.
Information on the current situation due to COVID-19
Currently, there is no presence teaching due to the COVID-19 pandemic. However, we will work with students to try to facilitate final presentations on schedule as much as possible. We offer the following options in this context:
If you want to hold your final presentation virtually:

The seminar will take place online via Zoom at the mentioned times (always

c.t.

). Please contact your respective supervisors or the event organization for access details.
We recommend that you provide a

recording of your presentation as a backup

via link in advance. For example, you can use your CIP-webspace or LRZ Sync&Share for this, but other ways are also fine.
Please note the

rules for online teaching below.

If you do not want to hold your final presentation

virtually

, you can make up for it. We will offer additional dates for this as soon as the situation has eased.
Rules for Online Teaching
While LMU is closed, most teaching happens currently online. As teachers, we ask you to be forgiving if things should not work perfectly right away, and we hope for your constructive participation. In this situation, we would also like to explicitly point out some rules, which would be self-evident in real life:
In live meetings, we ask you to responsibly deal with audio (off by default) and bandwidth (video as needed).
Recording or redirecting streams by participants is not allowed.
Distributing content (video, audio, images, PDFs, etc.) in other channels than those foreseen by the author is not allowed.
If you violate one of these rules, you can expect to be expelled from the respective course, and we reserve the right for further action. With all others, we are looking forward to the joint experiment of an "online semester".
Length of presentations for students
Final presentation of practical work: 10 min presentation + 10 min discussion
Final presentation of bachelor thesis: 15 min presentation + 10 min discussion
Kickoff presentation Master's thesis: 10 min presentation + 10 min discussion
Final presentation master thesis: 20 min lecture + 15 min discussion
Attention here it does not concern about circa data. I.e. after the time given above the presentation will be finished regardless of whether the end of the presentation slides is reached or not. It is advisable to do a test lecture with the supervisor beforehand to get a feeling for the timing.
Order
The order of presentations on this website is subject to possible changes at short notice.
Setting appointements
The date of the disputation will be arranged with the supervisor of the thesis and registered by them. For externally supervised presentations, please contact the person in charge (Media Informatics Office) at least four weeks before the desired date, providing the following information:
Prefferred Date
Students name
Supervisors name
Responsible Professor
Title of the work
Type of work: BT/MT/PT
Presentations
Di 03.11.2020 (mit Prof. Butz)

Christian Mall


Linda Hirsch

[Master (Abschluss)] Tangible interaction with busts and statues
20+15 Min.
frei: 55 Min

Do 05.11.2020 (mit Prof. Hußmann)

Lisa-Marie Bauer


IRT + Sylvia Rothe

[Bachelor] Kulturerbe in AR: Evaluation eines AR-Erlebnisses zur Entdeckung einer Dokumentarreihe zum UNESCO-Welterbe
15+10 Min.
David Gasser


Flo Bemmann & Sarah Aragon

[Master (Abschluss)] Supporting Sustainable Shopping Behavior through a Collaborative Self-Reflection Tool
20+15 Min.
Jelena Pranjic


Sarah Theres Völkel

[Master (Antritt)] Explanations for personality-tailored ads
10+10 Min.
frei: 10 Min

Di 10.11.2020 (mit Prof. Butz)

Yufei Yi


Jingyi Li

[Bachelor] In-Car Virtual Restorative Environments based on Fractal Geometry for Optimizing Passenger Experiences
15+10 Min.
Adrian Krüger


Michael Chromik

[Bachelor] Examining the Illusion of Explanatory Depth in Explainable AI through an empirical Online Study
15+10 Min.
frei: 40 Min

Do 12.11.2020 (mit Prof. Hußmann)

Cristina Bolohan


Sylvia Rothe + IRT

[Bachelor] Data aggregation for Natural Language Processing for the German Language
15+10 Min.
Thomas Beck


Sylvia Rothe

[Bachelor] Applying Diegetic Cues to an Interactive Virtual Reality Experience
15+10 Min.
Johanna Prinz


Thomas Weber

[Bachelor] Code Comprehension and Graphical Development for Web Components in Adobe XD
15+10 Min.
frei: 15 Min

Di 17.11.2020 (mit Prof. Butz)

Gregor Wolf


Michael Chromik

[Bachelor] Making SHAP Rap: Accessible and Interactive Explainable AI for End Users
15+10 Min.
Linus Scheibenreif


Andreas Butz

[Master (Abschluss)] Estimation of Air Pollution from Remote Sensing Data
20+15 Min.
Gregor Anzer


Linda Hirsch

[Master (Abschluss)] Exploring attention-aware and unobtrusive interfaces integrated in public places
20+15 Min.
überzogen: 5 Min

Do 19.11.2020 (mit Prof. Hußmann)

Anna Scheidle


Christoph Draxler

[Einzelpraktikum] Entwicklung einer App zur Verwaltung persönlicher Gegenstände mittels SwiftUI
10+10 Min.
Lale Kaya


Sarah Theres Völkel

[Master (Antritt)] TBD
10+10 Min.
Niklas Hirsch


Beat Rossmy

[Bachelor] Exploration of Flexible User Interfaces
15+10 Min.
Aline Neumann


Matthias Schmidmaier

[Master (Antritt)] Designing Affective Group Feedback for Online Lectures
10+10 Min.
frei: 5 Min

Di 24.11.2020 (mit Prof. Butz)

Felicitas Buchner


Michael Chromik

[Bachelor] Vielen Dank für deinen Rat, XAI: Eine Nutzerstudie über die Illusion of Explanatory Depth in erklärbaren KI-Systemen
15+10 Min.
Tristan Firschung


Ceenu George

[Bachelor] VirtualPhone
15+10 Min.
frei: 40 Min

Do 26.11.2020 (mit Prof. Hußmann)

Aleksa Ristic


Florian Bemmann

[Master (Antritt)] TBD
10+10 Min.
frei: 70 Min

Di 01.12.2020 (mit Prof. Butz)

Wanja Sajko


David Englmeier

[Bachelor] A Tangible Spherical World in Miniature (WIM) for Discrete VR Locomotion
15+10 Min.
frei: 65 Min

Do 03.12.2020 (mit Prof. Hußmann)

Anna Katrukha


Heiko Drewes

[Bachelor] A Gaze-based Service Terminal for Public Transport
15+10 Min.
Felix Decher


Christina Schneegass & Thomas Kosch

[Master (Abschluss)] Eye Gaze Analysis to Detect Unknown Words during Foreign Language Reading
20+15 Min.
frei: 30 Min

Di 08.12.2020 (mit Prof. Butz)

Vi Vu Hoang


Michael Chromik

[Bachelor] Is a visualization worth a thousand words? - Augmenting interpretability visualizations with natural language statements in explainable AI
15+10 Min.
frei: 65 Min

Do 10.12.2020 (mit Prof. Hußmann)

Evelyn Müller


Heiko Drewes, Sylvia Rothe

[Master (Abschluss)] Blickbasierte Interaktion für Interaktive Geschichten in Virtual Reality
20+15 Min.
Claudia Miemczyk


Sylvia Rothe

[Master (Abschluss)] Visualization of Historical Contexts
20+15 Min.
frei: 20 Min

Di 15.12.2020 (mit Prof. Butz)

Andreas Saal


Dennis Dietz

[Master (Abschluss)] xploring Gesture-Based Human-Machine-Interaction in Sporting Context
20+15 Min.
frei: 55 Min

Do 17.12.2020 (mit Prof. Hußmann)

Niklas Kersten


Thomas Weber

[Master (Abschluss)] Crowd Knowledge in Machine Learning Development
20+15 Min.
Michael Kölle


Sylvia Rothe

[Master (Abschluss)] Visual Attention Guiding for Augmented Reality See-Through Head-mounted Displays in Cars
20+15 Min.
frei: 20 Min

Di 12.01.2021 (mit Prof. Butz)

Leon Dönch


Kai Holländer

[Master (Abschluss)] Einbeziehung des menschlichen Nutzers in die externe Kommunikation von automatisierten Fahrzeugen
20+15 Min.
frei: 55 Min

Do 14.01.2021 (mit Prof. Hußmann)

Alexander Bünger


Matthias Schmidmaier

[Bachelor] Möglichkeiten und Grenzen der HRV Messung mittels RPPG
15+10 Min.
Simon von der Au


Sylvia Rothe, Christina Schneegass

[Master (Abschluss)] Erstellung eines Design Spaces für AR-unterstützte Kollaboration im Fernsehn
20+15 Min.
Quirin Müller


Beat Rossmy

[Bachelor] TBA
15+10 Min.
frei: 5 Min

Di 19.01.2021 (mit Prof. Butz)

Max Gawlick


Kai Holländer

[Bachelor] Eyettention
15+10 Min.
frei: 65 Min

Do 21.01.2021 (mit Prof. Hußmann)

Dominik Heinrich


Florian Bemmann

[Master (Abschluss)] Mood Detection in Experience Sampling Using Facial Landmark Movement Data of Video-Selfies
20+15 Min.
Christina Goerke


Amy Yanhong Li

[Bachelor] Improving Primary School Students' Self-Determination to do Reading Comprehension Assignments with Games
15+10 Min.
Sophia Sakel


Sarah Aragon Bartsch

[Master (Antritt)] Konzeption einer mobilen Anwendung zur Steigerung der Selbstreflexion bei der Studienwahl
10+10 Min.
frei: 10 Min

Di 26.01.2021 (mit Prof. Butz)

Cem Üner


Dennis Dietz

[Master (Antritt)] Interactive Mirror: Motivational Fitness Tool to perform Home Workouts
10+10 Min.
frei: 70 Min

Do 28.01.2021 (mit Prof. Hußmann)

Andrian Mörtlbauer


Heiko Drewes

[Master (Abschluss)] Text Editing with Head and Gaze Movements in Head-mounted Displays
20+15 Min.
Ferdinand Hof


Beat Rossmy

[Master (Abschluss)] TBA
20+15 Min.
Sarah Schaab


Christoph Draxler

[Bachelor] Integriertes Lese-Training für Erwachsene und Jugendliche mit Leseschwäche
15+10 Min.
überzogen: 5 Min

Di 02.02.2021 (mit Prof. Butz)

Thomas Puls


Daniel Buschek

[Master (Abschluss)] How to Introduce an Automated Intelligent System in Cell-Research? The Role of Interactive Demonstration in Anticipated User Experience
20+15 Min.
frei: 55 Min

Do 04.02.2021 (mit Prof. Hußmann)

Dung Vo Duc


Sylvia Rothe

[Master (Abschluss)] Learning Sign Language with Augmented Reality using AI
20+15 Min.
Lena Gundlage


Florian Bemmann

[Bachelor] How can greater attachment to digital devices slow rapid obsolescence cycles and reduce e-waste emergence?
15+10 Min.
Raphael Jonas Göldner


Florian Bemmann

[Bachelor] The effects of Social Comparison on behavior and motivation in mobile sensing phone studies with data feedback
15+10 Min.
frei: 5 Min

Di 09.02.2021 (mit Prof. Butz)

frei: 90 Min

Do 11.02.2021 (mit Prof. Hußmann)

Can Kabilay


Thomas Weber

[Bachelor] Software Development Process Management with Physical Artifacts
15+10 Min.
Jonas Erbe


Florian Bemmann

[Bachelor] Improving Transparency and Consent Rates in Mobile Sensing Studies with a Privacy Dashboard
15+10 Min.
Fan Fan


Florian Bemmann

[Einzelpraktikum] TBD
10+10 Min.
frei: 20 Min