Lecture Information Visualization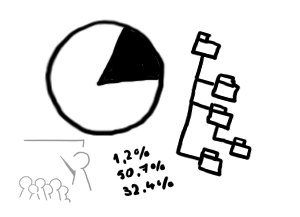 Lecturer:
Prof. Dr. Andreas Butz
Tutorials:
Carl Oechsner
Changkun Ou
Hours per week:
2 (Lecture) + 2 (Tutorial)
ECTS-Credits:
6
Module:
WP16: Computergrafik 3 (for Master Medieninformatik)
News
02.09.2021

Course registration is now open via Uni2Work.

16.07.2021

This webpage has been created.
Overview
The lecture is planned to take place in presence (subject to change).
Regsitration and grading is performed via Uni2Work.
Contents, exercise sheets and further information is be provided via Moodle. Moodle access will be provided upon successful registration via Uni2Work.
Dates and Locations
Lecture:
Date: Tuesdays, 10 a.m. - 12 p.m. c.t.
Location: TBA
Tutorials:



| Group | Weekday | Time | Location |
| --- | --- | --- | --- |
| Group 01 | Thursdays | 2-4 p.m. c.t. | TBA |
| Group 02 | Thursdays | 4-6 p.m. c.t. | TBA |
Contents
The lecture introduces core aspects in information visualization. The focus will be on human visual perception, visualization of multivariate data, and interaction concepts for visualization systems. Based on these concepts, strategies will be introduced that allow graphs, networks, trees, text-based data and time-based data to be visualized. Furthermore, the lecture presents techniques to efficiently use limited display space.
The lecture course is suitable for:
Students of media informatics (Medieninformatik) (Diplom, Master) and computer science (Informatik) (Diplom, Master) with prior knowledge in media informatics (Medieninformatik), Obligatory lecture for Master MCI
The lecture is targeted at master students. However, participation is also possible for bachelor students. Please be advised that credits can cannot be provided to bachelor students prior to enrollment for a master program.
Further information regarding the lecture, tutorial and exam will be annouced soon.
Rules for Online Teaching
While LMU is closed, most teaching happens currently online. As teachers, we ask you to be forgiving if things should not work perfectly right away, and we hope for your constructive participation. In this situation, we would also like to explicitly point out some rules, which would be self-evident in real life:
In live meetings, we ask you to responsibly deal with audio (off by default) and bandwidth (video as needed).
Recording or redirecting streams by participants is not allowed.
Distributing content (video, audio, images, PDFs, etc.) in other channels than those foreseen by the author is not allowed.
LMU Munich is a discrimination and harassment-free educational institution for everyone, regardless of gender, gender identity and expression, age, sexual orientation, disability, physical appearance, body size, race, ethnicity, denomination or technology choices. We do not tolerate harassment of our students or staff in any form, neither professional nor personal. Any form of discrimination or sexual harassment, incl. images, is not appropriate for any lecture, seminar, workshop or other forms of meetings and collaborations. Students or staff violating these rules may be dismissed from the sessions.