Practical Course Modeling 3D-Printing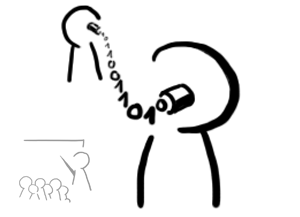 Lecturer:
Prof. Hußmann
Tutorials:
Bernhard Slawik
Hours per week:
4
ECTS credits:
tba
Modul:
tba
News
30.01.2015:

Unfortunately, this course has been cancelled for this semester.
Dates and Locations
Lecture: to be announced
Location: to be announced
Contents
3D-Druck wird unter Ingenieuren, Designern und Hobbybastlern zu einem immer wichtigeren Thema. Die Möglichkeit, aus eigenen Ideen fassbare Objekte zu materialisieren, ist ein mächtiges Werkzeug, um Ersatzteile für defekte Geräte herzustellen oder um eigene Prototypen für eine Abschlussarbeit zu bauen. Obwohl 3D-Drucker inzwischen zu erschwinglichen Preisen zu kaufen sind, braucht man immer noch ein gewisses Fachwissen und Erfahrungswerte, um die eigenen Ideen erfolgreich in funktionsfähige Objekte zu verwandeln. Dieser Kurs gibt eine Einführung in die Möglichkeiten des 3D-Drucks, zusammen mit praktischen Übungen zu Planung und Konstruktion, sowie zum Umgang mit 3D-Druckern.
The lecture course is suitable for:
Studierende der Medieninformatik (Master)
Materials