Lecture Online Multimedia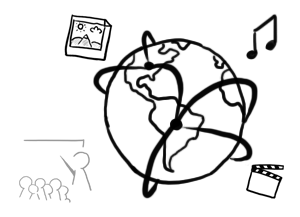 Lecturer:
Prof. Hussmann
Tutorials:
Florian Bemmann
,
Changkun Ou
Hours per week:
3 (Lecture) + 2 (Tutorial)
ECTS credits:
6
Modul:
WP5, Multimedia im Netz (for Master Medieninformatik)
P9, Multimedia im Netz / Online Multimedia (for Master MMT)
Language:
English
News
09/12/19:

Thanks for participating in our survey! After discussing your feedback, we decided that there will be a different exam for MMT students than for other Major Subject students.

12/11/19:

The exam date is now fixed. It is the 11th of February from 12:00 to 14:00, room M218 in the main building.

31/10/19:

Lecture slies and audio podcast can be found in LMU MunichMoodle system.

15/10/19:

All resources for the tutorials can be found in our OMM GitHub repository.

15/10/19:

To access our Slack channel, you must possess a cip.ifi.lmu.de email address. Please inform yourself here on how to obtain one.

15/10/19:

Registration is managed in Uni2Work.

02/10/19:

This lecture is for major subject students only (e.g. Media Informatics, Informatics, MMT, ...)! Minor subject students (e.g. Kunst und Multimedia) have to enroll for Multimedia im Netz.
Dates and Locations
Lecture:


Thursday 10-12 Uhr, Amalienstr. 73A Raum 112

17.10.2019 - 06.02.2020

Tutorials:



| Group | Day | Time | Tutor |
| --- | --- | --- | --- |
| 01 | Monday | 4-6 p.m. | Andre Schmidt |
| 02 | Monday | 6-8 p.m. | Andre Schmidt |
| 03 | Wednesday | 4-6 p.m. | Aleksa Ristic |

Location: Amalienstr. 17, A 001 (CIP Pool "Luna") Site map
Contents
The lecture discusses multimedia services which are realized through data networks (online). Knowledge about data networks is introduced as far as necessary for understanding the lecture, for details students are referred to other lectures on computer networks. The lecture is structured into the following areas:
Basic technologies for interactive multimedia Web apps
Server-side JavaScript, Node, Express
Database integration for Web Apps, NoSQL-Datenbanken (MongoDB)
Client-Side Web App Frameworks (Angular, React, Web Components)
Social media and virtual online worlds
Copyright protection and Digital Rights
Media Streaming Technology
Architectures and Signalling Protocols for Multimedia Communication
The lecture course is suitable for:
Students of Media Informatics (Master) or Informatics (Master) being well grounded in topics of Media Informatics, or Human-Computer-interaction (Master)
Students of Master MMT - compulsory course in the third term
Communication and Questions
We encourage discussion about the lecture and tutorials via Slack: https://mimuc.slack.com/messages/omm-ws1920

To sign up, you need an email address that ends in "@cip.ifi.lmu.de". The tutors will provide support and answer questions on the topic.

Lecture
| # | Date | Subject |
| --- | --- | --- |
| 1 | 17.10.2019 | Introduction & Motivation |
| 2 | 24.10.2019 | Basics of Interactive Web Apps |
| 3 | 31.10.2019 | Web Paradigms for Client-Server Interaction |
| 4 | 07.11.2019 | Server-side JavaScript |
| 5 | 14.11.2019 | Database Integration for Web Apps |
| 6 | 21.11.2019 | Guest Lecture: JavaScript Optimization in V8 (by Google V8 Team) |
| 7 | 28.11.2019 | Client-Side Web App Frameworks |
| 8 | 05.12.2019 | Digital Rights |
| 9 | 12.12.2019 | Social Media: Interactive & Critical Session |
| 10 | 19.12.2019 | Technological Outlook |
| 11 | 09.01.2020 | Media Streaming Technology |
| 12 | 16.01.2020 | Guest Lecture: Streaming and Multi-CDNs (by IRT Munich) |
| 13 | 23.01.2020 | Architectures and Signaling Protocols for Multimedia Communication |
| 14 | 30.01.2020 | QA |
| 15 | 06.02.2020 | Virtual Online World (by Prof. Dr. Albrecht Schmidt) |
Note:
Slides & Podcast are avaliable via Moodle
Tutorials
All programming resources for the tutorials can be found in our OMM GitHub repository. Please install all tools listed in the Readme before you attend the tutorials.
Exam
Date:February 11th 2020, 12:00-2:00 PM
Location: LMU main building, Geschwister-Scholl-Platz 1, Room M218