Lecture Digital Media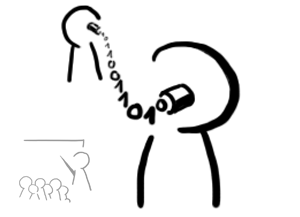 Lecturer:
Prof. Hußmann
Tutorials:
Christina Schneegass
und
Sarah Aragon Bartsch
Contact us only via
dm(at)medien.ifi.lmu.de
Hours per week:
3 (Lecture) + 2 (Tutorial)
ECTS credits:
6
Modul:
P8: Digitale Medien (für Bachelor-Hauptfach Medieninformatik)
P1.3 und P1.4: Digitale Medien (für Bachelor-Nebenfach Medieninformatik)
News
Dates and Locations
Lecture:
Dates: Friday 10 a.m. - 1 p.m.
Location: Schellingstr. 3 (S), S004

Tutorial:

Contents
The lecture gives an introductory overview on the most important basic knowledge for the realization of digital media, covering technical topics as well as topics from perceptual psychology. There are no prerequisites in terms of programming skills or computer science knowledge. The lecture touches a quite broad spectrum of different disciplines (mathematics, physics, telecommunications, medicine). The lecture is the basis for the lecture "Media Technology" which goes into deeper Detail of technology and design aspects. It also provides the basis for more specialized courses on multimedia-related topics.
The lecture course is suitable for:
Students of Media Informatics, "art and multimedia" (bachelor)
Studierende Medieninformatik (Bachelor Nebenfach), insbesondere Kunst und Multimedia
The lecture course is not suitable as "Vertiefendes Thema" for Informatik students.