Study Group Hardware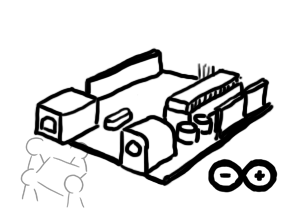 Lecturer:
Prof. Rohs
Person in Charge:
Sven Kratz
Hours per week:
2
ECTS credits:
none
Module:
not assigned to a module
Dates and Locations
Monday 18-20, Amalienstr. 17, A105
Contents
Im Arbeitskreis Hardware geht es um den Entwurf und die Entwicklung von Mikrocontroller-basierten interaktiven Systemen. Dies umfasst die Software, das physisches Objekt/Gehäuse und die eingebettete Elektronik. Beispiele sind kapazitive Multi-Touchpads, kombinierte Lichtwecker-MP3-Player, drahtlose Sensorknoten zur Erfassung von Messwerten oder Mini-Service-Roboter. Die Grundlagen dazu werden in der Veranstaltung vermittelt. Die Teilnehmer erlernen die Entwicklung eingebetteter interaktiver Systeme mit Hilfe von Mikrocontrollern, das Bauen physischer Prototypen mit Lasercutter, 3D-Drucker und anderen Werkzeugen, sowie die zugrunde liegenden Interaktionskonzepte. Die Teilnehmer bauen in Gruppen interaktive Geräte und Objekte, programmieren interaktive Mini-Roboter, entwickeln steuerbare Pico-Projektoren, bauen Multitouch-Displays, sowie gestengesteuerte tragbare Geräte mit Tiefenkameras oder Beschleunigungssensoren. In einführenden Vorlesungen werden die notwendigen Grundlagen zu Mikrocontroller-Programmierung, Elektronik, Sensorik, Aktuatorik und physical prototyping vermittelt.
Erfahrungen in Elektronik-basteln, wie z.B. aus "Sketching with Hardware", sind hilfreich, aber keine Voraussetzung. Wir erwarten keinen substanziellen Zeitaufwand für die Teilnehmer außerhalb der Veranstaltung selbst. Für diese Lehrveranstaltung gibt es keinen Schein / keine ECTS-Punkte.
The lecture course is suitable for:
all students that are interested
Registration
Simply come to the first meeting.
Termine und Unterlagen
Date
Topic
Slides
Project
24.10.
Introduction to embedded interaction, microcontrollers, hardware & software tools
Slides
31.10.
7.11.
14.11.
21.11.
28.11.
5.12.
12.12.
19.12.
9.1.
16.1.
23.1.
30.1.
 
6.2.
Material
We will provide the necessary hardware components for the duration of the semester.
Literature
Folgende Literatur ist hilfreich für den Kurs. Die Anschaffung ist jedoch nicht zwingend erforderlich zur Teilnahme.