Disputationsseminar Bachelor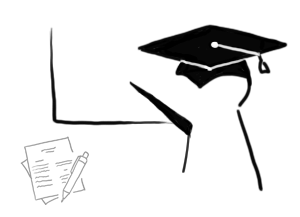 Lecturers: Prof. Hußmann, Prof. Butz
Person in Charge: Max Maurer
Hours per week: 2
ECTS credits: 3 (Disputation Bachelor Thesis)
Module: P19.2
Dates and Locations
Date: Monday, 10-12 (s.t.) Vortragende müssen 10 Minuten früher da sein
Location: Amalienstraße 17, Raum A 105
Contents
Im Rahmen des Disputationsseminars halten Bachelorstudenten den Abschlussvorträge zu ihrer Bachelorarbeiten. Alle interessierten Studierenden sind herzlich eingeladen, das Unterseminar zu besuchen! Insbesondere ist ein regelmäßiger Besuch für diejenigen zu empfehlen, die selbst dabei sind, ihre Bachelorarbeit zu bearbeiten.
Vortragslänge für studentische Vorträge
Endpräsentation Bachelorarbeit: 15 min Vortrag + 10 min Diskussion
Achtung hierbei handelt es sich nicht um circa Angaben. D.h. nach der oben angegeben Zeit wird der Vortrag beendet unabhängig davon, ob das Ende der Vortragsfolien erreicht ist oder nicht. Es bietet sich an vorher einen Probevortrag mit dem Betreuer zu machen um ein Gefühl für das Timing zu bekommen.
Reihenfolge
Die Reihenfolge der Vorträge wird während des Unterseminars anhand verschiedener Kriterien entschieden. Die Reihenfolge auf der Webseite zeigt lediglich wann die Vorträge angemeldet wurden.
Termin bekommen
Um einen Termin zu erhalten bitte rechtzeitig melden. Die E-Mail muss folgendes enthalten: Name, Terminvorschlag,Betreuer und Titel des Vortrags/der Arbeit.
Termin in den Semesteferien
In der vorlesungsfreien Zeit finden keine Termine statt. Im Fall von Bachelorarbeiten ist es aber möglich sich für den Master zu bewerben und die Einschreibung um ein Semester zu verschieben. Man kann dann als Bachelor bereits weiterstudieren und am Anfang des nächsten Semesters seinen Disputationsvortrag halten.
Vorträge
Mo 17.10.2011

Manuel Fernandez


Heinrich Hußmann

[Projektarbeit] Creating a navigation concept for a multi-view environment
15+10 Min.
Ioanna Vletsou

[Bachelor] Users' needs in Prototyping Physical Interfaces
15+10 Min.
frei: 40 Min

Mo 24.10.2011

Franziska Straßer

[Bachelor] Evaluation of an Ambient Reminder System
15+10 Min.
Matthias Schmidmaier

[Projektarbeit] Simulating Force Profiles of Mechanical Push-Buttons using Distal Tactile Feedback in Interactive Surfaces
15+10 Min.
Sven Osterwald

[Bachelor] Distale Vermittlung thermaler Reize
15+10 Min.
frei: 15 Min

Mo 31.10.2011

Christiane Wölfel

[Bachelor] Bedienkonzept Multifunktionslenkrad - Optimierung für TFT-Displays im Nutzfahrzeug
15+10 Min.
frei: 65 Min

Mo 07.11.2011

Julia Polleti


Heinrich Hußmann

[Einzelpraktikum] ECO|Balance - Visualizing personal travel data on a small screen
10+10 Min.
Katrin Mekker

[Projektarbeit] Designing Representations of Mobile Media on Large Displays
15+10 Min.
frei: 45 Min

Mo 14.11.2011

Valerie Kroner

[Projektarbeit] Flick-and-Zoom: Improving the Usability of Speed-Dependent Automatic Zooming for Map Navigation on Mobile Devices
15+10 Min.
frei: 65 Min

Mo 21.11.2011

frei: 90 Min

Mo 28.11.2011

Martin Hommer

[Projektarbeit] Reflective Technologies: Six Guidelines for Designing Applications for the Classroom
15+10 Min.
frei: 65 Min

Mo 05.12.2011

Michael Marth

[Bachelor] (not public)
15+10 Min.
frei: 65 Min

Mo 12.12.2011

Frederic Kettelhoit

[Bachelor] Evaluating Visual Programming with Functional Languages on Tablet Computers
15+10 Min.
frei: 65 Min

Mo 19.12.2011

Simon Eumes


Andreas Butz

[Bachelor] Development of a Back Posture Tracking
15+10 Min.
Melanie Kunz


Heinrich Hußmann

[DA (Abschluss)] Konzeptionierung Mobiler Communitys für Automobilhersteller
20+15 Min.
frei: 30 Min

Mo 26.12.2011 2. Weihnachtsfeiertag

frei: 0 Min

Mo 02.01.2012 Weihnachtsferien

frei: 0 Min

Mo 09.01.2012

Marion Koelle

[Einzelpraktikum] Exploring new Input Styles: Ubiquitous Interaction combining a Smartphone and a Kinect
10+10 Min.
Thomas Rixner

[Bachelor] Usability-Analyse und Redesign des IRT MXF Analysers
15+10 Min.
Moriel Seror

[Bachelor] Taktiles Feedback auf Distanz
15+10 Min.
frei: 20 Min

Mo 16.01.2012

Cornelia Reithmeier

[Bachelor] Diminishing Visual Brand Trust on Websites for better Security Assessment
15+10 Min.
Fabius Steinberger


Alexander Wiethoff

[Bachelor] Sketching Hybrid Interactions
15+10 Min.
frei: 40 Min

Mo 23.01.2012

frei: 90 Min

Mo 30.01.2012

Alexander Gundermann

[Bachelor] Creating a Web Browser for User Studies on Security
15+10 Min.
Christoph Viegener

[Projektarbeit] Modulare Prototypen mittels Zeitbereichsreflektrometrie
15+10 Min.
Susanne Zirker

[Bachelor] Untersuchung von Einflussfaktoren beim Vergleich verschiedener Displayumgebungen für kollaboratives Lernen
15+10 Min.
frei: 15 Min

Mo 06.02.2012

Attila von Thermann

[Projektarbeit] Methods for Evaluating Peripheral Interaction in the Lab
15+10 Min.
Sarah Thiel

[Bachelor] Entwicklung eines Systems zur komfortablen Ansteuerung von Frazeugfunktionen über ein mobiles Endgerät
15+10 Min.
frei: 40 Min
Hinweis: Falls Sie Ihren Termin hier nicht finden, wählen Sie oben rechts auf dieser Seite das nächste Semester an.