Course Drawing and Sketching of Scenarios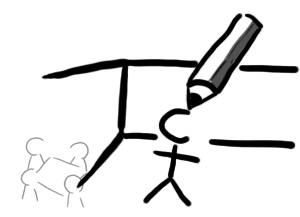 Lecturer:
Jacqueline Muckenthaler
Hours per week:
3
ECTS credits:
3
Module:
WP 18.1
News
Dates and Locations
Dieser Kurs wird aufgrund der hohen Teilnehmerzahl zweimal angeboten. Der Vormittagstermin findet von 10-13 Uhr statt, der Nachmittagstermin von 14-17 Uhr.

Course:
Friday 10-13 or 14-17, Leopoldstraße 13, Raum 1502
Contents
Im Zeichenkurs wird das Zeichnen von Menschen und Objekten in verschiedenen Raumsituationen sowie bei verschiedenen Aktivitäten erlernt. Ziel ist es, Nutzungsszenarien für interaktive Systeme in Form von Skizzen grafisch ansprechend und schnell zu Papier bringen zu können.
The lecture course is suitable for:
Studierende der Medieninformatik (Bachelor) mit Nebenfach MMI im 3. Semester
Registration
Die Anmeldung findet über UniWorx statt.
Material