Lecture Online Multimedia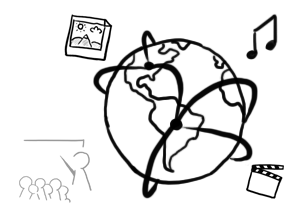 Lecturer:
Prof. Hußmann
Tutorials:
Alina Hang
Hours per week:
3 (Lecture) + 2 (Tutorial)
ECTS credits:
6
Modul:
WP5, Multimedia im Netz (für Master Medieninformatik)
P5, Multimedia im Netz (für Nebenfach Medieninformatik)
News
Dates and Locations
Lecture: Thursday 09:30 - 12, Geschw.-Scholl-Platz 1, A 125

Tutorial:
Wednesday 12-14 Uhr (Tutor: Hans-Peter Dietz)
Wednesday 14-16 Uhr (Tutor: Hans-Peter Dietz))
Wednesday 16-18 Uhr (Tutor: Simon Ismair
Wednesday 18-20 Uhr (Tutor: Alina Hang)
Amalienstr. 17, A 0001
Exam: 2013-02-20, 18-20h, Theresienstraße: Hörsaal C 123

Retry Exam: 2013-04-05, 10-12h, Schellingstr. 4 H030

Contents
The lecture discusses multimedia services which are realized through data networks (online). Knowledge about data networks is introduced as far as necessary for understanding the lecture, for details students are referred to other lectures on computer networks. The lecture is structured into the following areas:
Web technologies for interactive multimedia: Server-side interactivity with PHP and Java, asynchronous interactivity in the Web (Ajax), mashups of Web sites
Content-oriented base technologies: Further technologies required for storing, transferring and processing of multimedia data in the net, including security issues, metadata standards and rights managament
Multimedia distribution services: e.g. WebRadio, WebTV, electronic books and corresponding base technologies
Multimedia services for individual communication: e.g. Video and multimedia conferencing technology
The lecture course is suitable for:
Students of Media Informatics (Diploma, Master) or Informatics (Diploma, Master) being well grounded in topics of Media Informatics
Students of Media Informatics as a minor field of study(60 ECTS) - compulsory course in the fifth term;
Podcast
Slides and a podcast of lecture are available here.
The podcast (in German) can be
subscribed
to from iTunes and other podcatcher software.
Lecture
Date
Subject
Slides
Podcast
18.10.12
1. Introduction and Motivation
Folien 1
Podcast 1+2a
2. Interactive Web Applications, Part a
Folien 2a
25.10.12
2. Interactive Web Applications, Part b
Folien 2b
Podcast 2b
08.11.12
2. Interactive Web Applications, Part c
Folien 2c
Podcast 2c
15.11.12
2. Interactive Web Applications, Part d
Folien 2d
Podcast 2d
22.11.12
3. Web Programming with Java
Folien 3
Podcast 3
29.11.12
4. Communities, the Web and Multimedia
Folien 4
Podcast 4
06.12.12
5. Digital Rights, Part a
Folien 5a
Podcast 5a
13.12.12
5. Digital Rights, Part b
Folien 5b
Podcast 5b
6. Introduction to Cryptographic Techniques
Folien 6
Podcast 6
20.12.12
7. Multimedia Content Description
Folien 7
Podcast 7
10.01.13
8. Electronic Books and Magazines
Folien 8
Podcast 8
9. Multimedia Content Production and Management
Folien 9
Podcast 9
17.01.13
10. Streaming Architectures
Folien 10
Podcast 10
24.01.13
11. Web Radio, Web TV, and IPTV
Folien 11
Podcast 11
31.01.13
12/13/14. Conferencing Services, Session Signaling, Outlook
Folien 12/13/14
Podcast 12/13/14
07.02.13
Vorlesung entfällt!
 
 
Tutorials
Exam
Termin: 20.02.2013, 18-20h
Ort: Theresienstraße: Hörsaal C 123
Deadline for registration: 13.02.2013; 12:00
Deadline for deregistration: until 19.02.2013; 12:00
Die Klausur is closed-book.