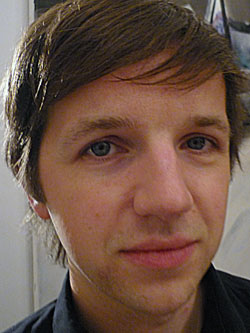 Dominikus Baur
---
Bitte beachten Sie dass ich nicht mehr an LMU tätig bin. Daher betreue ich auch keine studentischen Arbeiten mehr.
Research Interests
Visualization for music-related data
Media and listening histories
Intelligent User Interfaces
Projects
---
Virtual Projection
: Exploring Optical Projection as a Metaphor for Multi-Device Interaction

Virtual Projection is a joint research project of the University of Munich (LMU), the University of Calgary and Columbia University by Dominikus Baur, Sebastian Boring, and Steven Feiner. Virtual Projection leverages the idea of bringing optical projection to digital surfaces, thus making it just as easy to temporarily transfer information from a phone to a larger display. As virtual projections are only simulated, we can overcome some of the restrictions of their real-world inspiration: (1) We can freely adjust distortion and transformation depending on the application's needs. (2) We can fix virtual projections to the display and create multiple ones at the same time.

Project website



To be presented at CHI 2012.
---
SongWords
: Exploring Music Collections Through Lyrics (Project Thesis Bartholomäus Steinmayr)

Application for browsing music collections on a tabletop display. All songs are displayed based on self-organizing maps for either their lyrics or user-generated keywords. Navigation happens with direct touch gestures or by searching for sections of lyrics.

Conference Paper (ISMIR'10).
---
LastHistory
: Visualizing Listening Histories and Personal Streams (Diploma Thesis
Frederik Seiffert
)
---
Rush
: Repeated Recommendations on Mobile Devices
| | |
| --- | --- |
| | Creating playlists on mobile devices mostly happens either manually (with a lot of overhead) or automatically (with mixed results). Rush is an interaction technique for mobile touchscreen devices that allows the user to create personalized playlists without the need to browse the complete collection. After choosing a seed song five recommendations for this song are shown. Once the user has picked one of these suggestions, new recommendations for that song become available and so on. With this continuous interaction personalized playlists can be created quickly and easily on the go. |
Presentation Slides
(09/02/10, IUI'10, Hong Kong)
Conference Video Presentation
Read the
Conference Paper
Rush will be available in the Apple Appstore soon.
---
Flux
: Physical photo organization on a tabletop display(
Additional information
)
---
PhotoHelix
: Chronological photo browsing using hybrid interaction on a tabletop display (
Additional information
,
Video (about 30MB)
)
Project and Diploma Theses (German only)
The following topics are available for project- and diploma-theses. If you are interested (or need a translation ;) ) just contact me.
No topics available.
Publications
2012



Download

Dominikus Baur, Andreas Butz, Sheelagh Carpendale
arcs.fm - A Backdrop Visualization for Music Talk
In Proceedings of the Eurographics Conference on Visualization (EuroVis 2012), Vienna, Austria, June 2012 (bib)



Download

Dominikus Baur, Jennifer Büttgen, Andreas Butz
Listening Factors: A Large-Scale Principal Components Analysis of Long-Term Music Listening Histories
Proceedings of CHI 2012, May 5 - 10, 2012, Austin, Texas, USA (bib)
2011



Download

Hendrik Richter, Benedikt Blaha, Alexander Wiethoff, Dominikus Baur, Andreas Butz
Tactile Feedback without a Big Fuss: Simple Actuators for High-Resolution Phantom Sensations
In Proceedings of the 13th ACM International Conference on Ubiquitous Computing - UbiComp'11, Beijing, China, September 2011. (bib)



Download

Michael Sedlmair, Petra Isenberg, Dominikus Baur, Andreas Butz
Information Visualization Evaluation in Large Companies: Challenges, Experiences and Recommendations
In Journal of Information Visualization, Special Issue on Evaluation (BELIV), Volume 10, Number 3, July 2011. (bib)



Download

Michael Sedlmair, Petra Isenberg, Dominikus Baur, Michael Mauerer, Christian Pigorsch, Andreas Butz
Cardiogram: visual analytics for automotive engineers
In Proceedings of the 2011 annual conference on Human factors in computing systems (CHI 2011), Vancouver, Canada, May 2011 (bib)



Download

Dominikus Baur
The Songs of Our Past: Working with Listening Histories
In Adjunct Proceedings (Doctoral Consortium) of the 29th ACM International Conference on Human Factors in Computing Systems (CHI 2011), Vancouver, Canada, May 2011 (bib)



Download

Dominikus Baur, Bernhard Hering, Sebastian Boring, Andreas Butz
Who Needs Interaction Anyway? Exploring Mobile Playlist Creation from Manual to Automatic
In Proceedings of the 16th International Conference on Intelligent User Interfaces (IUI 2011), Palo Alto, USA, Feb. 2011 (bib)
2010



Download

Dominikus Baur, Frederik Seiffert, Michael Sedlmair, Sebastian Boring
The Streams of Our Lives: Visualizing Listening Histories in Context
IEEE Transactions on Visualization and Computer Graphics, vol. 16, no. 6, pp. 1119-1128, Nov./Dec. 2010, doi:10.1109/TVCG.2010.206 (bib)



Download

Dominikus Baur, Bartholomäus Steinmayr, Andreas Butz
Songwords: Exploring Music Collections Through Lyrics
In Proceedings of the 11th International Society for Music Information Retrieval Conference (ISMIR 2010), Utrecht, Netherlands, Aug. 2010 (bib)



Download

Sebastian Boring, Dominikus Baur
Can You See Where I Point at?
2nd International Workshop on Security and Privacy in Spontaneous Interaction and Mobile Phone Use (in Conjunction with Pervasive 2010), Helsinki, Finland, May 2010 (bib)



Download

Petra Isenberg, Michael Sedlmair, Dominikus Baur, Tobias Isenberg, Andreas Butz
Collaborative Visualization on Interactive Surfaces - CoVIS '09
Collaborative Visualization on Interactive Surface - CoVIS '09, Workshop at Visweek 2009 (bib)



Download

Dominikus Baur, Michael Sedlmair, Raphael Wimmer, Yaxi Chen, Sara Streng, Sebastian Boring, Alexander De Luca, Andreas Butz
Trends in Information Visualization
Media Informatics Advanced Seminar, Winter Term 2008/2009 (bib)



Download

Sebastian Boring, Dominikus Baur, Andreas Butz, Sean Gustafson, Patrick Baudisch
Touch Projector: Mobile Interaction Through Video
In Proceedings of the 28th ACM International Conference on Human Factors in Computing Systems - CHI 2010, Atlanta, Georgia, USA, Apr. 2010 (bib)
Michael Sedlmair, Petra Isenberg, Dominikus Baur, Andreas Butz
Evaluating Information Visualization in Large Companies: Challenges, Experiences and Recommendations
Proceedings of the CHI Workshop Beyond Time and Errors: Novel Evaluation Methods for Information Visualization (BELIV). Atlanta, USA. 2010, (Best Paper Award). (bib)



Download

Dominikus Baur
Visualizing Media and Music Histories
Know Thyself: Monitoring and Reflecting on Facet's of One's Life In conjunction with CHI 2010, Atlanta, Georgia, USA, Apr. 2010 (bib)



Download

Yaxi Chen, Dominikus Baur, Andreas Butz
Gaining Musical Insights: Visualizing Multiple Listening Histories
In Proceedings of the international workshop on Visual Interfaces to the Social and Semantic Web, VISSW 2010, Hong Kong, China, February 17. Proceedings. (bib)



Download

Dominikus Baur, Sebastian Boring, Andreas Butz
Rush: Repeated Recommendations on Mobile Devices
In Proceedings of the 15th International Conference on Intelligent User Interfaces (IUI 2010), Hong Kong, China, Feb. 2010 (bib)



Download

Dominikus Baur, Sebastian Boring, Andreas Butz
Rush: Repeated Recommendations in an Automotive Context
2nd International Workshop on Multimodal Interfaces for Automotive Applications (MIAA) In conjunction with IUI 2010, Hong Kong, China, Feb. 2010 (bib)
2009



Download

Mark Hancock, Otmar Hilliges, Christopher Collins, Dominikus Baur, Sheelagh Carpendale
Exploring Tangible and Direct Touch Interfaces for Manipulating 2D and 3D Information on a Digital Table
In Proceedings of the 1st Conference on Interactive Surfaces and Tabletops (ITS), Banff, Canada, Nov. 2009 (bib)



Download

Dominikus Baur, Tim Langer, Andreas Butz
Shades of Music: Letting Users Discover Sub-Song Similarities
In Proceedings of the 10th International Society for Music Information Retrieval Conference (ISMIR 2009), Kobe, Japan, Oct. 2009 (bib)
Katrin Sauerwein, Dominikus Baur
Visualizing the Real Estate Data of an Online Marketplace
In Proceedings of the 13th International Conference on Information Visualization (IV), Barcelona, Spain, Jul 15-17, 2009. (bib)



Download

Daniel Filonik, Dominikus Baur
Measuring Aesthetics for Information Visualization
In Proceedings of the 13th International Conference on Information Visualization (IV), Barcelona, Spain, Jul 15-17, 2009. (bib)



Download

Dominikus Baur, Andreas Butz
Pulling Strings from a Tangle: Visualizing a Personal Music Listening History
In Proceedings of the 14th International Conference on Intelligent User Interfaces (IUI 2009), Sanibel Island, USA, Feb. 2009 (bib)
2008



Download

Michael Sedlmair, Dominikus Baur, Sebastian Boring, Petra Isenberg, Marko Jurmu, Andreas Butz
Requirements for a MDE System to Support Collaborative In-Car Communication Diagnostics
International Workshop Beyond the Laboratory: Supporting Authentic Collaboration with Multiple Displays, CSCW, San Diego, USA, Nov 08, 2008. (bib)



Download

Sara Streng, Dominikus Baur, Gregor Broll, Alexander De Luca, Raphael Wimmer, Andreas Butz
Trends in E-Learning
Media Informatics Advanced Seminar, Summer Term 2008 (bib)



Download

Dominikus Baur, Otmar Hilliges, Andreas Butz
Flux: Enhancing Photo Organization through Interaction and Automation
8th International Symposium, SG 2008, Rennes, France, August 27-29, 2008. Proceedings (bib)
2007



Download

Otmar Hilliges, Dominikus Baur, Andreas Butz
Photohelix: Browsing, Sorting and Sharing Digital Photo Collections
In Proceedings of the 2nd IEEE Tabletop Workshop, Newport, RI, USA, October 10 - 12, 2007 (bib)



Download

Dominikus Baur
Informed Browsing of Digital Image Collections
Diploma Thesis, Ludwig-Maximilians-Universität München (Germany), 2007 (bib)
2006



Download

Dominikus Baur
PhotoHelix - Organizing and Viewing Photos in a Tabletop environment
Project Thesis, Ludwig-Maximilians-Universität München (Germany), 2006 (bib)
Teaching Assistance