Lecture Digital Media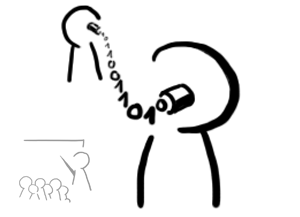 Lecturer:
Prof. Butz
Tutorials:
Doris Hausen
Hours per week:
3 (Lecture) + 2 (Tutorial)
ECTS credits:
6
Modul:
P8: Digitale Medien (für Bachelor Medieninformatik)
News
Dates and Locations
Lecture:
Friday 10-13, Schellingstr. 3, 002
Tutorial:
Monday 10-12 Uhr - Tutor: Peter Arnold
Monday 14-16 Uhr - Tutor: Stephanie Ta
Monday 16-18 Uhr - Tutor: Doris Hausen
Monday 18-20 Uhr - Tutor: Vanessa Böhner
Wednesday 8:30-10 Uhr - Tutor: Tobias Munzert
Wednesday 10-12 Uhr - Tutor: Hans - Peter Dietz
Thursday 10-12 Uhr - Tutor: Simon Männlein
Thursday 18-20 Uhr - Tutor: Tibor Goldschwendt
Friday 14-16 Uhr - Tutor: Andre Reichstaller
Friday 16-18 Uhr - Tutor: Alexander Klimczak
alle in Amalienstr. 17, A 001 (CIP-Pool)
Exam:
Monday, Februrary 13th 16-18, HGB B101 (Nachname: A-L), M118 (Nachname: M-Q) und M218 (Nachname: R-Z)
Exam:
Wednesday, April 11th 16-18, HGB B101
Contents
Die Vorlesung gibt eine einführende Übersicht über die wichtigsten technischen und wahrnehmungsphysiologischen Grundlagen zur Realisierung digitaler Medien. Es werden keinerlei Programmierkenntnisse und nur elementare Informatikkenntnisse vorausgesetzt. Dagegen wird ein relativ breites Themenspektrum verschiedenster Disziplinen (Mathematik, Physik, Nachrichtentechnik, Medizin) angesprochen. Die Vorlesung bildet die Basis fuer die stärker ins technische Detail gehende Lehrveranstaltung "Medientechnik" und stellt die Grundlagen für vertiefende Lehrangebote zu Multimedia-Themen.
The lecture course is suitable for:
Students of Media Informatics (Bachelor)
Studierende Kunst und Multimedia (Bachelor)
Informatik (Bachelor) als vertiefendes Thema
Lecture
Tutorial
Die in der Vorlesung besprochenen Inhalte werden anhand von praktischen Anwendungen eingeübt. Die Beherrschung des praktischen Umgangs mit Kompressionsverfahren und Mediendokumentformaten soll erreicht werden.